Mockup Frame Creator by Place.to
Standard License Extended License File TypesPSD, ZIP, All Files File Size43.35 MB LayeredYes Dimensions1500 x 1000 px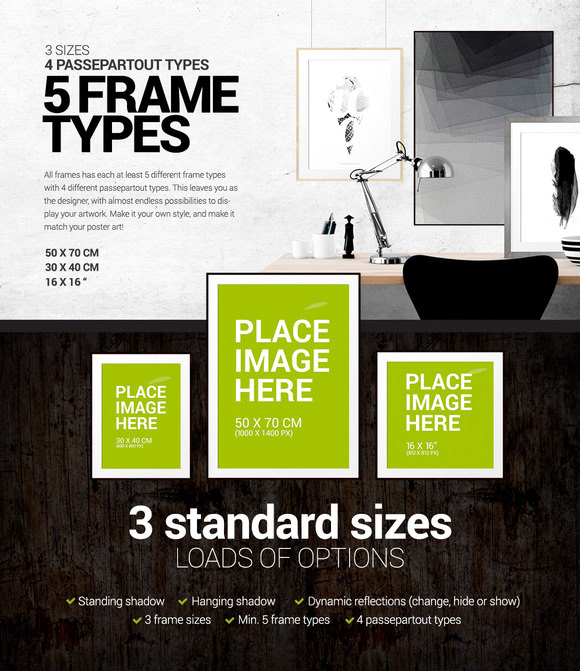 Create your own scene! - in seconds.
Use it for poster presentations, header images, product mockups, environment designs, etc.
I made a quick video to show how it works: http://youtu.be/xPSr4_NHBCw
A great way for any creative person to present their poster work in a professional manner. In this psd file you can create your own fully customizable desk or wall environment where you can add as many poster frames as you like, move them around, change their frame surface and much more. Display your own work, your clients work or maybe just your upcoming ideas for a new poster. Perfect for Dribbble or Behance previews.
This is basically a lite version of my full Mockup Scene Creator: http://crtv.mk/es45. In this Mockup Frame Creator, you get full control of the desk, and all the frames either hanging on the wall, or standing on the desk.
You can resize the desk, change the desk surface and even change the desk legs. Here is a small video of how to adjust the desk: http://youtu.be/atu_0d8yD0M
All items have been cleaned up, hand traced with pen tool, and layered in a very nice order. All shadows are in separate layers.
Every frame has 2 types of shadow. One for standing on the desk, and one for hanging on the wall.
If you are looking for more desk items or screen types, then check out the full version with much more items included: http://crtv.mk/es45 $35 (This Mockup Frame Creator was included as a free update)
I'll try to name all of the features on a list, but to get a better idea, you should check out the previews I have attached. Or better yet, just buy the file. ;)