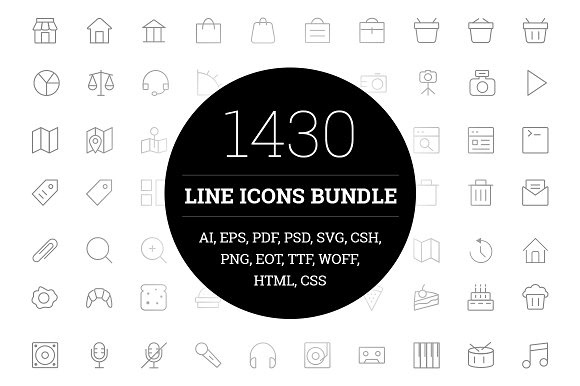 Here's a collection of a whole bunch of Line Icons, available in a wide range of file formats. More than 1000 icons to choose from, you'll find this bundle your very own extensive library that you can save and play around with.
Outlined neatly, these icons will prove to be very useful to you as they cover a wide range of topics, from books, folders, signs, boards, gifts, clothes, clothing and apparel, food and drinks, speech bubbles, user icons, decoration, currency, tools, arrows, signals, ios, android, web icons and many more.
Whats in the package?
1 AI
1 EPS
1 PDF
1 PSD (Layer by Layer Icons)
1 CSH
2860 SVG (With Storke or Without Stroke)
7150 PNG (48x48px, 64x64px, 128x128px, 256x256px, 512x512px)
EOT, TTF, WOFF
Web Iconic Font (HTML / CSS)
SVG Sprite (Html / CSS)
Download this extensive library of Line Icons Bundle – it's the only one you'll ever need!