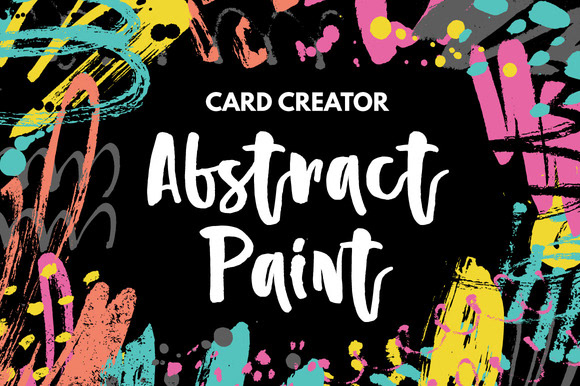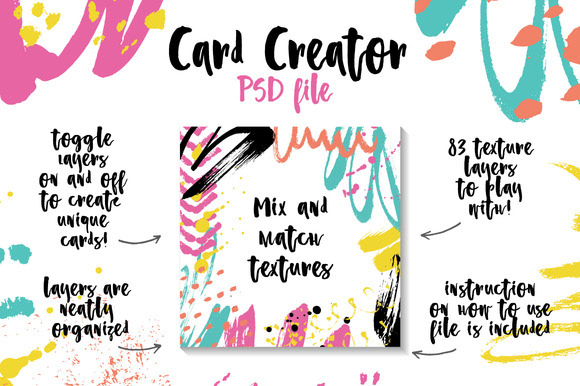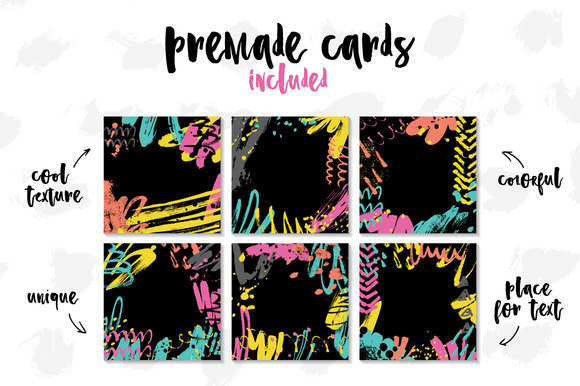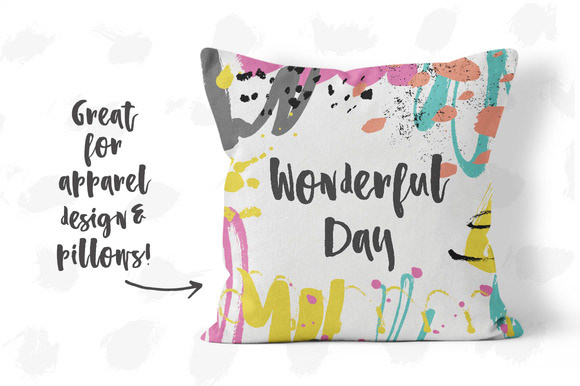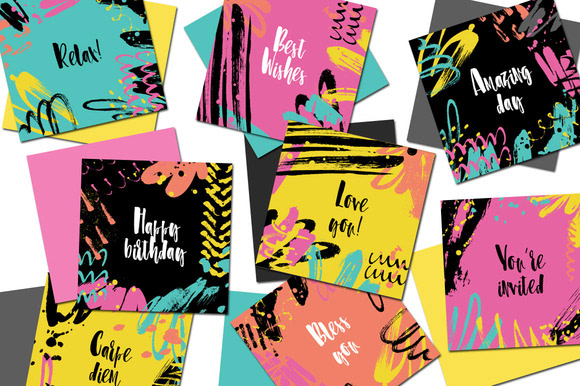 Abstract Paint Card Creator is not just an illustration or a cute card - it's a tool that will help you to create unique cards with awesome textures! Card Creator - the main file of the product - is a PSD file, so you'll need Photoshop or Adobe Elements to get the most out of Card Creator. Creating your own card with abstract textures was never sooo easy...
Card Creator includes 83 textures, each on a separated layer so you'll be able to change things easily if you want to. Or you can just toggle layers on and off to get interesting results! Check out video in the preview to see Card Creator in action. Please keep in mind - card Creator is meant to produce square cards.
In Card Creator you can move textures around, make them smaller/bigger, change color and create totally unique, fun and awesome square cards!
You can change: *
order of textures in the file
color of textures
size of each one
number of textures per card
It will allow you to create thousands of variations! And don't forget to add some text to make your card truly unique :)
In addition to Card Creator you'll get 6 pre-made cards in AI, EPS, JPG formats and a huge vector pack of different handdrawn textures.
All together you will get:
Card Creator - PSD file
6 Premade cards - all together in AI, 6 files EPS, 6 files in JPG
EPS file with hundreds of handdrawn textures (you can see all of them in the preview) - please note that those textures are available only in vector format for now, however I'm planning to add PNG versions in the future
*Please note! In order to use Card Creator PSD file (the one that you see in action in video), you need to have Photoshop or Elements. You can also use EPS files (which can be opened in Illustrator) to access textures and easily modify color, position, size. Premade JPG cards can be used only as they are, as file is a flat image.
Fonts used in presentation: