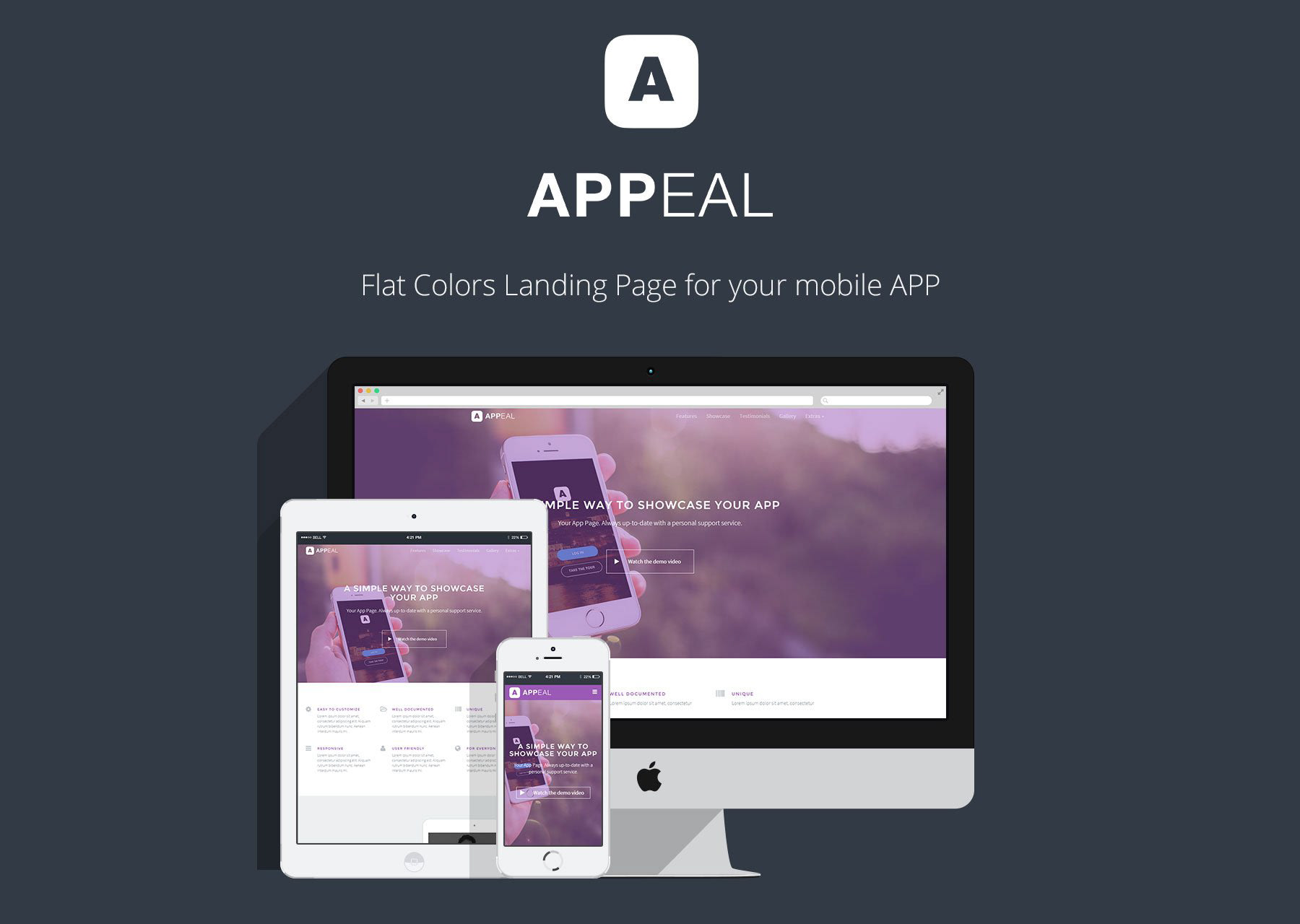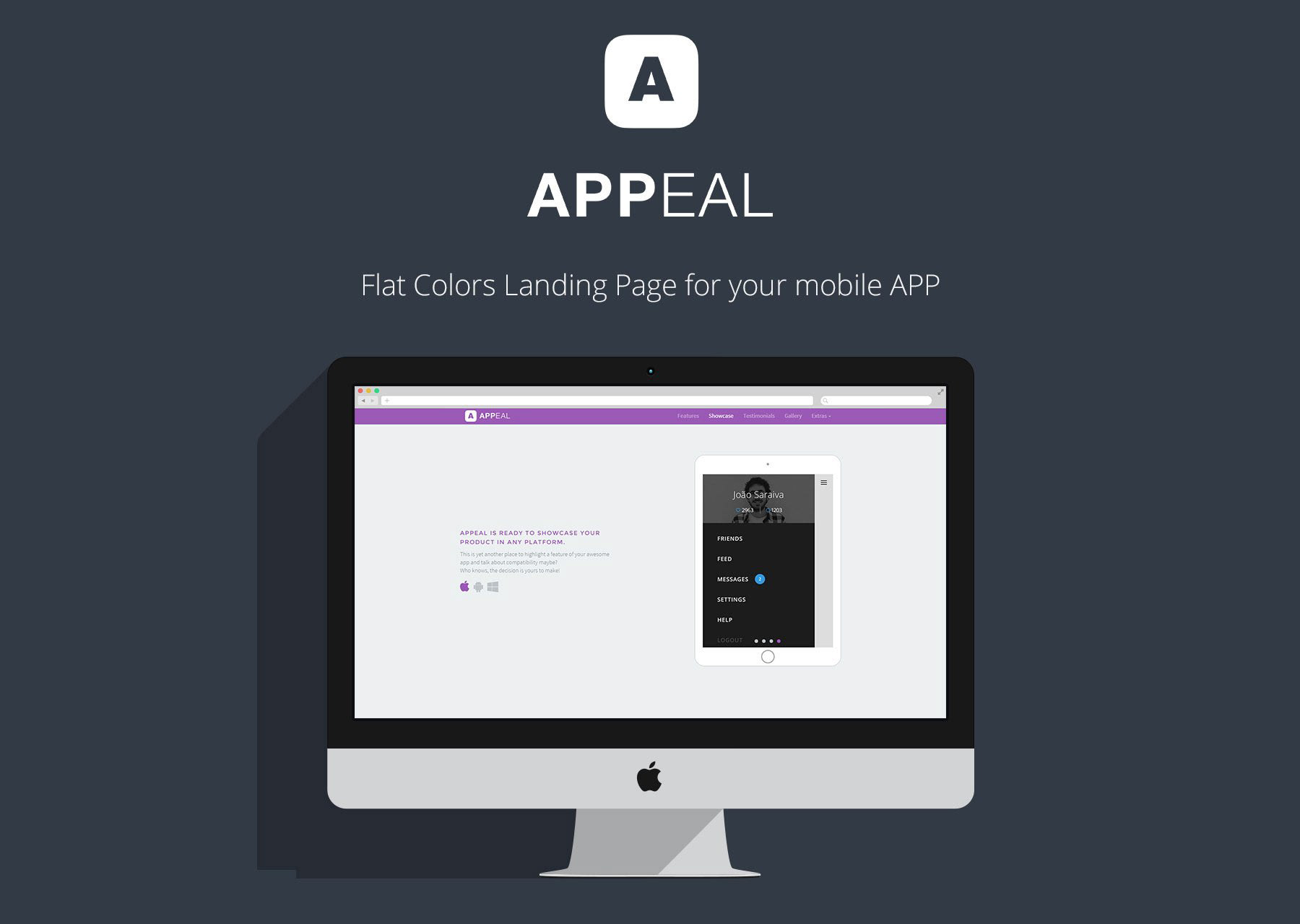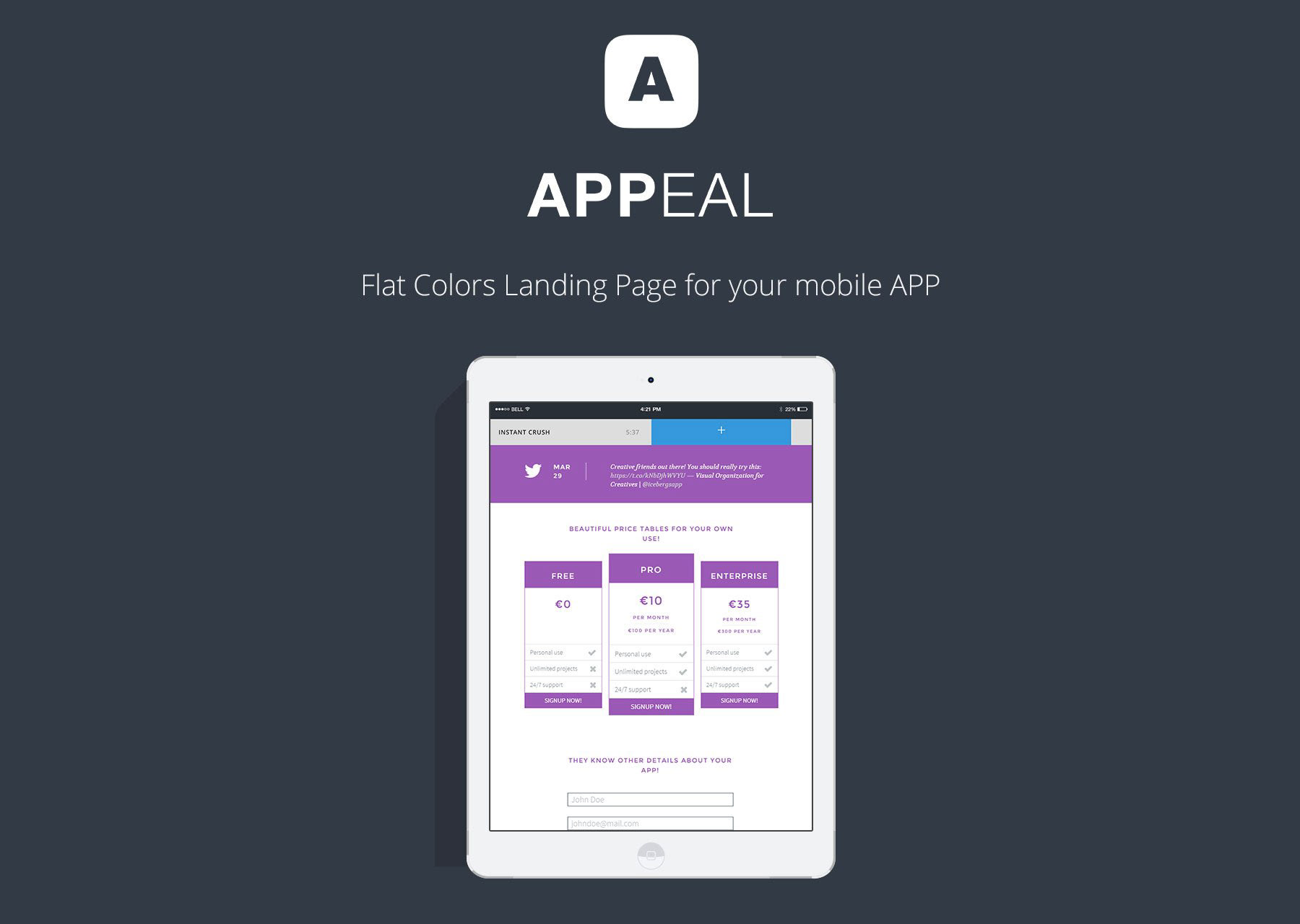 The documentation for these files is in the works and will be available as soon as possible.
All plugins used are listed below for easier access to each plugin documentation.
Meanwhile any kind of support needed will be handled by e-mail at 
support@joaopedro.de
 or via Twitter 
https://twitter.com/capitaobarbosa_.

If you like it, please don't forget to comment, recommend and follow my shop! 
I'll truly appreciate it!
João Saraiva
------------ LIGHTWEIGHT PREVIEWS ------------
• Background Video
- http://themes.joaopedro.de/appeal/background-video
• Background Image
- http://themes.joaopedro.de/appeal/background-image
• Background Color
- http://themes.joaopedro.de/appeal/background-color
------------ OVERVIEW ------------
I'm glad to finally be able to present my first solo theme: Appeal - App Landing Page. I was a former member of @digitalcookers and this is the first of many themes that i will be presenting to you from now on.
It's a minimal, elegant, professional, flat designed, HTML5 / CSS3 single page template, fully adaptable to all major mobile devices. Designed for displaying your future or already launched mobile application it can be adapted to many other types of content.
------------ FEATURES ------------
• 4 different types of header: image, video, color and without overlay
• 5 different main sections: header, features, showcase, gallery and contact form
• 9 different color schemes
• Mobile-First Design Aproach
• Fully responsive layout
• On-top navigation after scrolling past header
• Choose your mobile devices or simply let your visitors choose between them
• Instagram Feed
• Your own photos with clean lightbox 
• Twiter Feed
• Fully working PHP Contact Form with AJAX validation
• Fully working Newsletter Form MailChimp ready with AJAX validation
------------ CREDITS ------------
Without the help of some awesome plugins and cool icons this template would not be done. Thanks to all the creative people out there that somehow helped us build this template.
1. VIDEO & IMAGES
• Hosted Video 
- http://codyhouse.co/gem/app-introduction-template/
• Youtube Video
- https://www.youtube.com/watch?v=spu8KZvWxGw
• Instagram Photos
- Random users are selected depending on the tag but thanks to them :)
• Demo App Layout
- https://ui8.net/product/ios-7-kit
2. FONTS
• Montserrat (Google Fonts)
• Source Sans Pro (Google Fonts)
3. ICONS
• FontAwesome
- http://fortawesome.github.io/Font-Awesome/

4. SCRIPTS
• jQuery
- http://jquery.com/
• Bootstrap by Twitter
- http://getbootstrap.com/
• jQuery Ajax MailChimp
- https://github.com/scdoshi/jquery-ajaxchimp
• FlexSlider by WooThemes
- http://www.woothemes.com/flexslider/
• Fluidbox for beautiful lightboxes
- http://terrymun.github.io/Fluidbox/
• VIDE Background Video
- http://vodkabears.github.io/vide/
• Instagram Feed
- http://pongstr.github.io/pongstagr.am/
• Scroll trigger animations
- https://github.com/videojs/video.js
- http://daneden.github.io/animate.css/
• Video Player
- http://mynameismatthieu.com/WOW/
------------ CHANGELOG ------------
• Version 1.0 - 30 November
- Launch