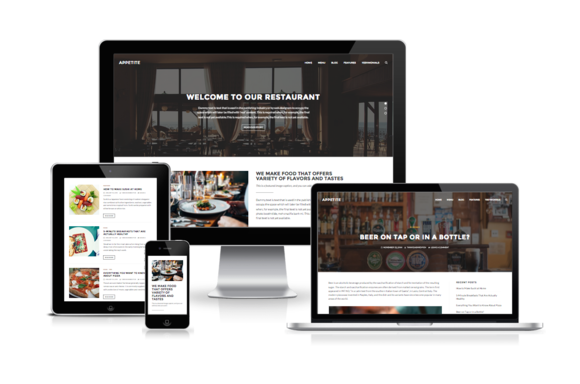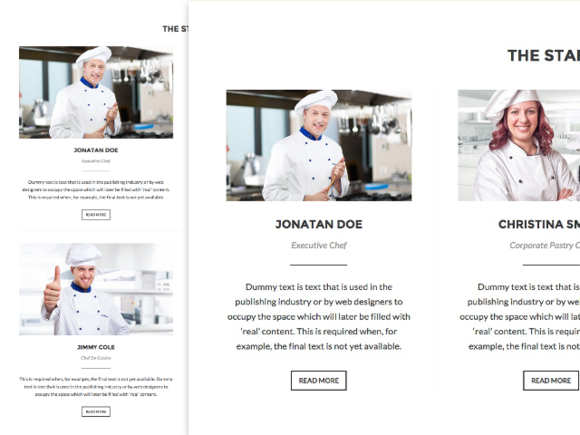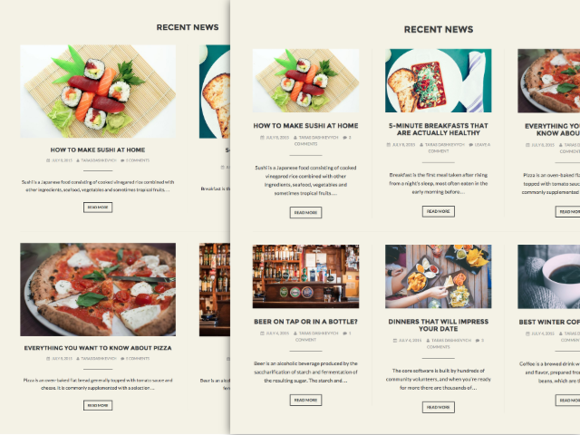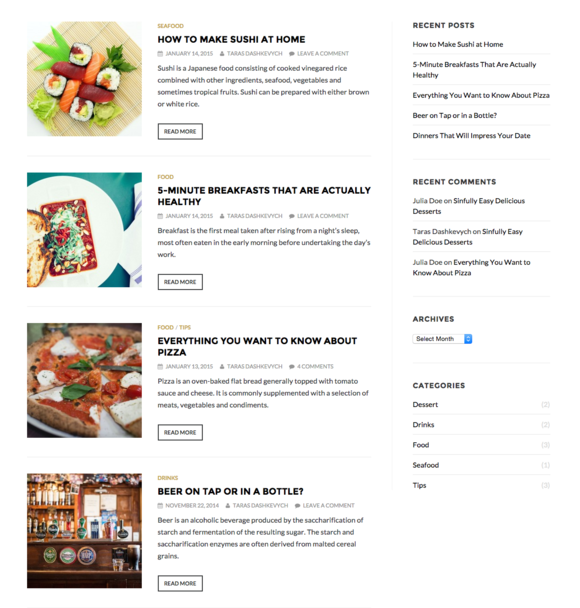 Appetite is an elegant, modern theme for restaurants, cafes, and food bloggers. Appetite is also the perfect theme to build a modern and clean website for your company.
--- READ ME FIRST ---
In order to have features such as:
Custom Logo;
Featured Slideshow;
Related Posts;
Share Buttons;
Infinite Scroll;
Tiled Galleries;
Gallery Carousel;
Restaurant Menu Items;
Testimonials;
You will need to install Jetpack Plugin ( http://jetpack.me ).
Custom Colors plugin for the self-hosted version of Appetite theme:https://github.com/dashkevych/appetite-custom-colors/blob/master/releases/appetite-custom-colors-1.0.zip?raw=true
--- RESPONSIVE DESIGN ---
Appetite is responsive, adapting smoothly to different screen sizes. Your content will always look beautiful on smartphones, tablets, laptops, and desktop screens.
--- CUSTOM PAGE TEMPLATES ---
Appetite includes five custom page templates:
Front Page Template ( http://demo.tdwp.us/appetite/ )
Full-Width Page Template ( http://demo.tdwp.us/appetite/full-width-template/ )
Grid Page Template ( http://demo.tdwp.us/appetite/our-locations/ )
Full-Width Grid Page Template ( http://demo.tdwp.us/appetite/the-staff/ )
Menu Template ( http://demo.tdwp.us/appetite/our-menu/ )
--- CUSTOM HEADER IMAGE ---
Appetite supports a Custom Header, allowing you to upload a single image to the header area. If a custom header image is not set then the header area will have a black background. Also, your custom header image will be used as a default image for other pages that do not have a featured image.
--- CUSTOM BACKGROUND ---
Appetite supports Custom Backgrounds. By default, your site has a full-width layout, but if you set a Custom Background, the site will switch to a boxed layout.
--- FEATURED IMAGES ---
Each post's Featured Image will be displayed to the left of your post, as a thumbnail image in archive views, and as a full-width image in single-page views.
--- TRANSLATION READY ---
Appetite is completely ready to be translated in your language (.mo and .po files are included).
Theme Documentation: Please scroll down this page for FAQ tab (next to comment).
Video Tutorials: We have created multiple video tutorials that quickly and accurately walk you through using the Appetite theme: https://www.youtube.com/watch?v=pz13kYxqUSk&list=PLszLIx-B6H7NWzAUBwV9gzluQ2qfyga4x
Theme Support is available to all customers who have purchased the theme. Unfortunately I can't help you customize your theme outside of it's intended functionality because theme customization has to do with preference, rather than actual theme issues. It requires customizing the theme beyond the scope of the theme's intended style or functionality.
Please note, theme does not include pre-installed content.
All the images used in demo version are not included in main download file. All images are property of their respective owners.