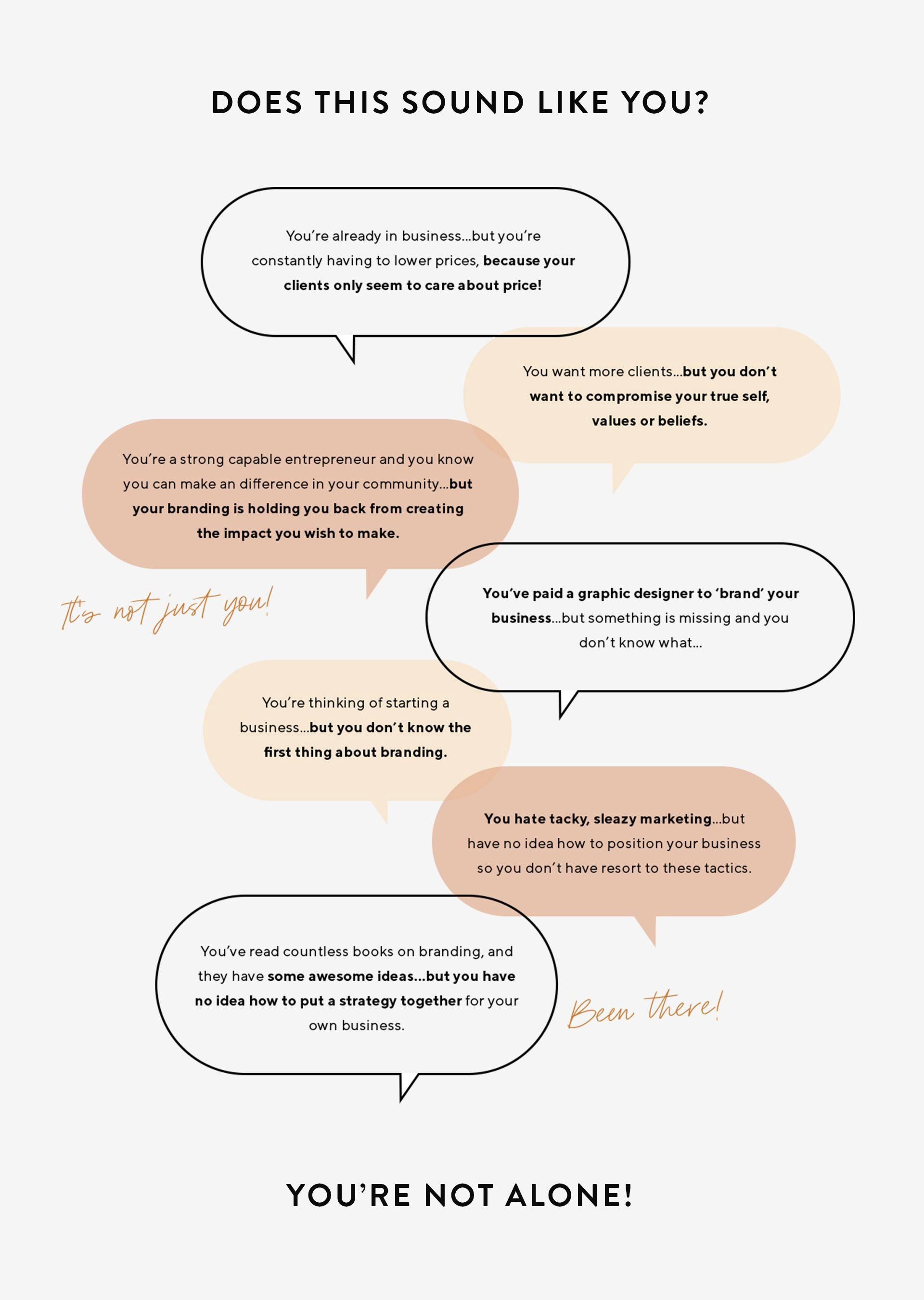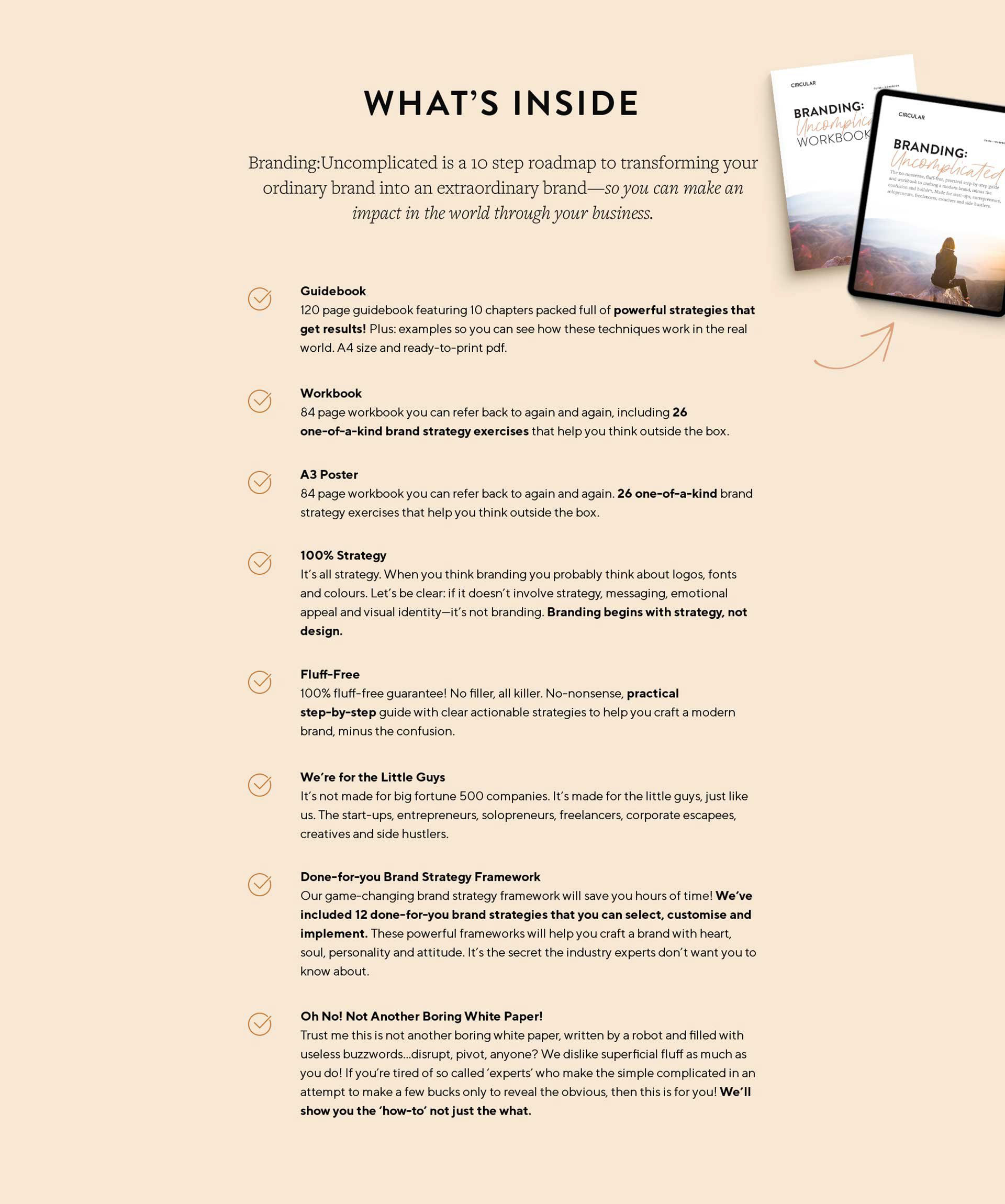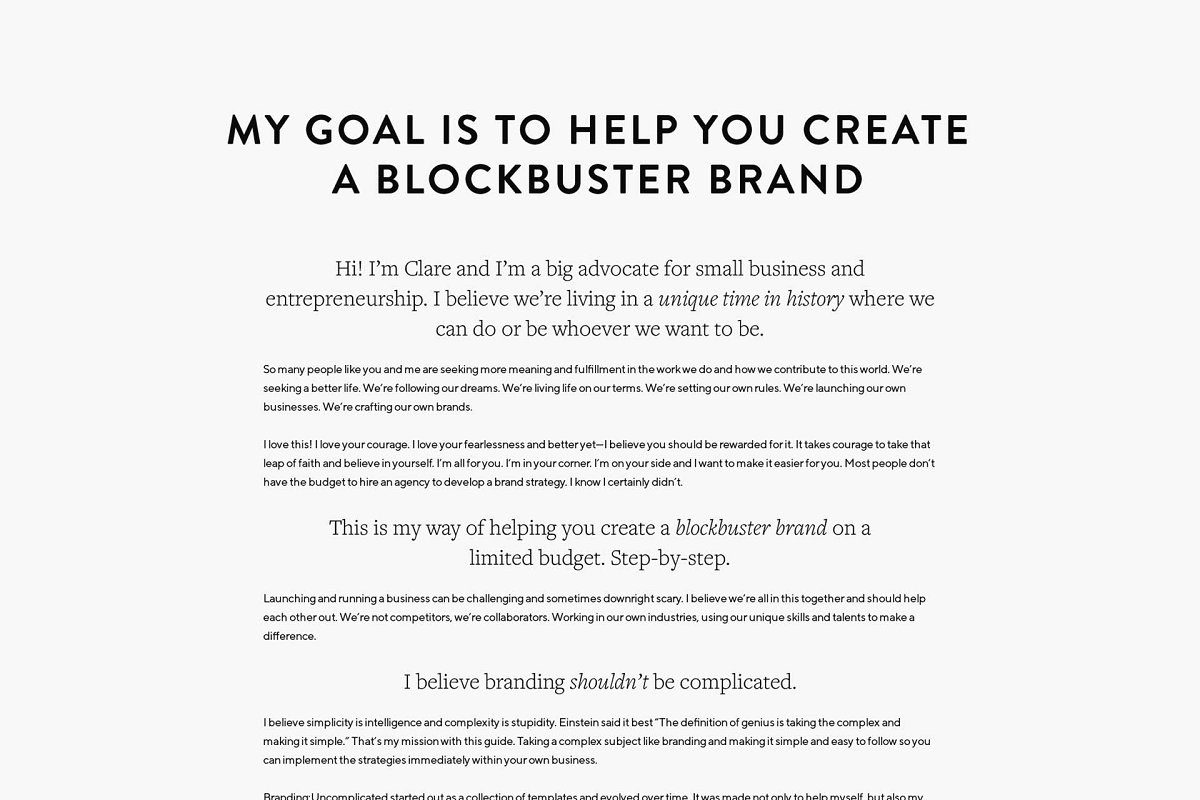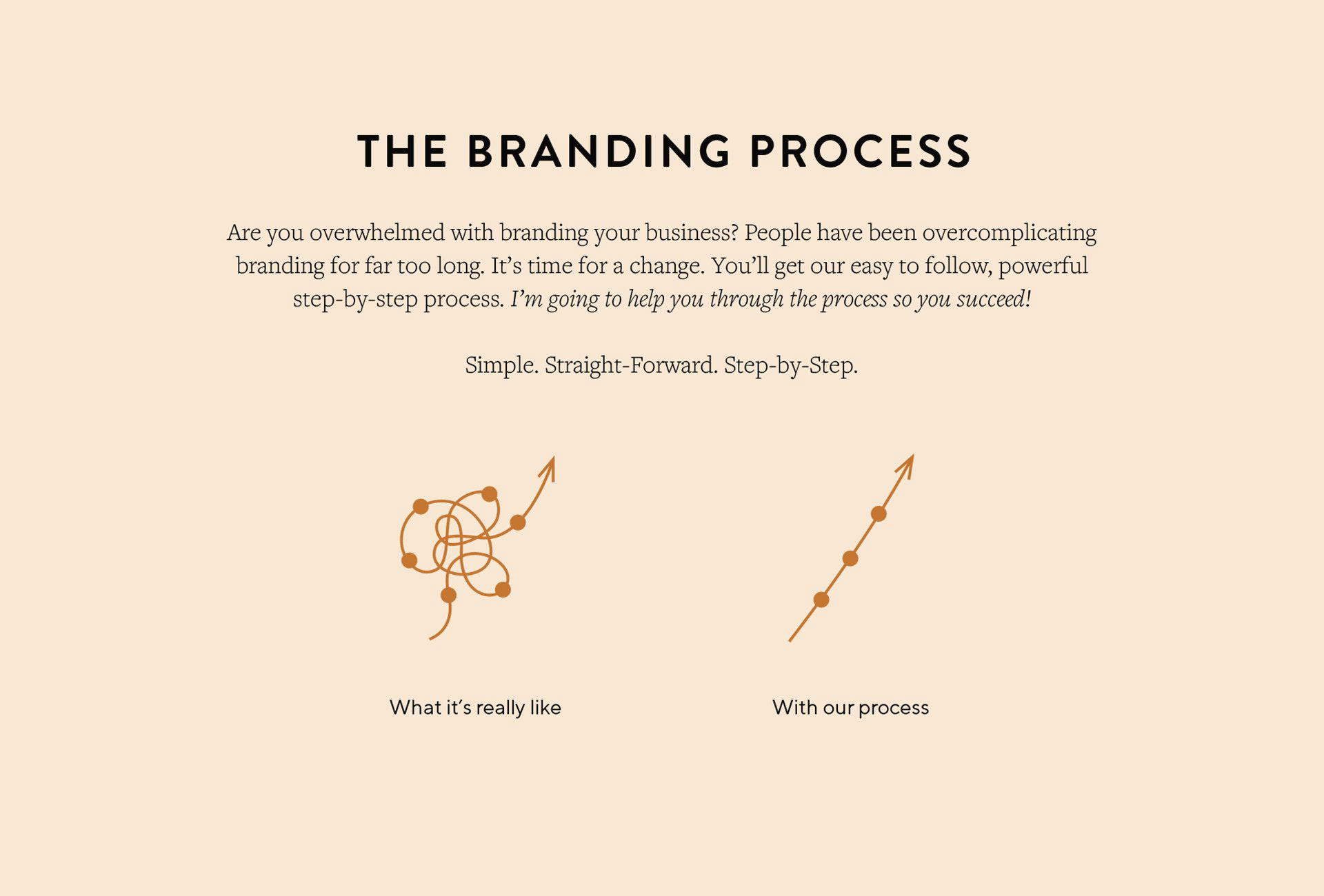 Branding:Uncomplicated ~ A Brand 
Strategy Guide & Workbook
10 Step Brand Strategy Roadmap - The no-­nonsense, fluff-­free, practical step-by-step guide and workbook to crafting a modern brand, minus the confusion. Made for start-­ups, entrepreneurs, solopreneurs, freelancers, creatives and side hustlers.
People have been over complicating branding for far too long. They make it hard to understand, apply and implement. There is a truckload of content out there. It's not your fault your overwhelmed—your trying to sift through chaos! I'm here to make the process simple, straight-forward and guide you step-by-step. I'm going to help you work through the process so you succeed!
This is my 10 step roadmap to crafting an extraordinary brand strategy—so you can make an impact in the world through your business.
Simple. Straight-Forward. Step-by-Step.
Guidebook, Workbook + A3 Poster
120 Page Guidebook
84 Page Workbook
10 Chapters
26 Brand Strategy Exercises
16 Example Exercises so you can follow along
1 Quiz
A4 size and ready-to-print PDF
Learn the importance of branding and why it matters
Create your customer avatar
Identify your tribe and repel the rest
Learn how to own your space in the marketplace
Fun strategies to uncover your core values
Learn how to make your competition irrelevant
Create clear differentiation from your competitors
Learn how to create a movement, not just a brand
Get into your customers head and uncover what really motivates them
And we finished up with a mind blowing tool that the industry experts don't want you to know about!
01 / Why Branding Matters
02 / Your Purpose is Bigger than Your Product
03 / Identifying Your Dream Customers
04 / The Subtle Art of Repelling Customers
05 / Making the Competition Irrelevant
06 / Creating a Movement, Not Just a Brand
07 / What Your Customers Really Want
08 / What Drives Human Behaviour
09 / Uniting Your Tribe Under Common Beliefs
10 / Putting it all Together
if you want a clear step-by-step guide on how to create a powerful brand strategy
if you want clarity, direction, and a solid brand foundation
if you want clear specific strategies that you can implement straight away
if you're tired of reading books that inspire you but don't explain how to do it
if you want confidence in your brand messaging
if you want a brand you are proud of
if you're so over reading fluffy branding books and not getting any results!
if you're tired of reading 'branding' articles that gloss over all the important details
if you're tired of pretentious garbage, with no real substance
if you ever wished there was an easy step-by-step process
if you are struggling to communicate your value and what you have to offer
if you're struggling to differentiate yourself from the competition
if you're struggling to cut through the noise and get heard
if your brand is holding you back from creating the impact you wish to make
if you are a small business, start-­up, entrepreneur, solopreneur, freelancer, creative, corporate escapee or side hustler
if you can't afford to hire an agency, but still want to create a blockbuster brand on a limited budget
Not So Much:
if you are seeking information about design. This guide is all about strategy, not design.
if you don't really value your brand and you think the price is too expensive - then it's not for you
if you are easily offended - then it's not for you
if you are not willing to do the work - then it's not for you
if you think business should be stuffy and corporate - then it's not for you
if you are not willing to try something new - then it's not for you
Easy step-by-step guide
No superficial depthless fluff
No page fillers
No annoying buzzwords
No boring theory that is useless in the real world
No airy-fairy pie-in-the-sky thinking that has no purpose
Simple, practical and real strategies that you can implement straight away
In the end, you will have a written brand strategy that will give you clarity and direction like never before
WHY A BOOK ON STRATEGY, DON'T YOU MAKE TEMPLATES?
Recently I created a Brand Guideline Template which included a section where you could add a brief brand strategy. One lovely customer complained that I didn't include a complete Brand Strategy in the template. I assumed most would understand that a complete brand strategy costs thousands of dollars and is customised to your brand—not something you can simply get off the shelf. Annoyed at first, I soon realised there was nothing out there to help creatives create a brand strategy step-by-step. And so my journey began...that was six months ago. It started out as a few templates and grew into 120 pages and a workbook. This is probably one of the best products I've ever created and I'm so proud of it. I've tried to make the process as easy as possible so you can get the most out of it. Let me know what you think or if you have any questions. I hope you enjoy!
Clare :)
STILL ON THE FENCE?