Loking for your next Co-Working Space? This could be the next for your Start-Up or a full running Enterprise, located at Coda 756 W Peachtree St NW Atlanta GA 30308.
At this convenient address, discover floors of coworking and private offices that cater to needs you didn't even know you had.
 Our spaces are designed to promote productivity whether you're a team of one or 100, and month-to-month flexibility means your space is just as agile as you are. Plus, one all-inclusive rate makes things easy. Any workspace can have a lounge, but ours are decorated with custom murals. 
Your old office might have had a coffee pot, but ours has a micro-roasted coffee bar and fresh fruit water. We've considered every detail so you can focus on your business. 
Beyond desks, staff, and amenities, find a community of forward-thinking companies and in-house events that connect you organically. More information on this location is coming soon, but we're gladly accepting inquiries

.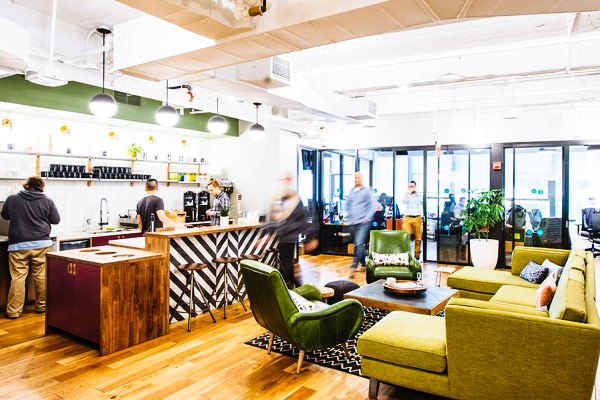 Our team is here for you throughout the workweek, from front-desk service to personalized support.
Around the clock, our cleaning crew helps keep common areas, meeting rooms, and private offices looking their spiffiest.
These soundproofed alcoves provide comfortable sanctuaries for conducting private calls and video chats.
Refreshing fruit water to keep you and your guests hydrated throughout the day.
Dedicated meeting spaces include A/V gear and unexpected details like custom wallpaper and marble tables.
Every floor has its own space stocked with a business-class printer, office supplies, and paper shredder.
Hook yourself up to hard-wired Ethernet or secure Wi-Fi, including IT support and guest log-in functionality.
Stay caffeinated throughout the day with an infinite stream of freshly roasted coffee.
Professional & Social Events
From workshops to thought-leader panels and cheese tastings, our programming helps you nurture a strong team culture.
The heart-and-soul of our locations, these lounges are living-room-style spaces designed for creativity, comfort, and productivity.
North Ave MARTA (2 blocks away)
730 Midtown (2 blocks away); 674 Spring Street (3 blocks away)
10A, 10B, 11, 411, 412,414, 423, 440, 441, 453, 463, 476, 483 bus lines W Peachtree St at 5th St (across the street)
Relay Bikes - North Ave MARTA (2 blocks away)