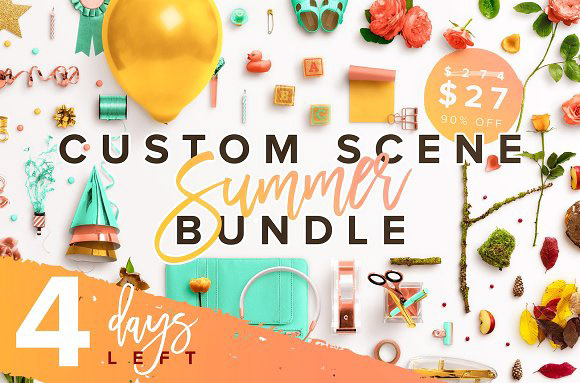 It's the summertime, the season best spent relaxing on a beach, sipping on an icy cocktail. So, to mark the hottest season, we're having our hottest sale yet.
 Our Summer Bundle includes every single edition Custom Scene has ever released.
For the limited time of the month of July, you can get your hands on all 14 Editions, including 1440+ items and 120+ pre-made scenes for just $27. That's a discount of 90%. At the end of the sale, all Editions will go back to full price, so even if you're shopping from the comfort of your sun lounger in this summer sale, it's never too early to get prepared for those design projects you've got lined up for September.
It pays to be an early bird when you can get a grip on a vital design resource for (next to) nothing!
Due to the popularity of our Summer Bundle, we are extending the sale for just a few more weeks. Get Custom Scene Summer Bundle for $27 (or Extended License for $49) for this month of August only. Offer finishes 31st of August 2017.
14 Editions
1440+ Items
120+ pre-made scenes
EDITIONS
Exclusively in for Bundle Edition: 27 Pre-made Scenes
MAIN FEATURES
Isolated Objects (PSD and PNG files)
Pre-made Scenes Scenes (PSD, PDF and JPG files)
Standard Resolution at 72 dpi
High Resolution at 300dpi
Simplified Version
Add your content with smart objects
Customize color object
Organised layers and folders
Separate all objects and shadows
Dynamic Shadow
Changeable background
Instruction PDF file
FEATURES for Photoshop
Dynamic Shadows Every item has its own unique dynamic shadow which means you can rotate the object in any way and the shadow will change based upon the object's positioning. You can also easily change up the direction of the light across the entire scene at once.
Editable Color Many of the isolated objects are color editable, simply use the color picker in photoshop to choose the exact hue that will best compliment your mock-up scene.
Editable Content Some items have editable content which allows you to personalise your flat lay even further by changing the pattern, typography, or adding your branding.
Pre-made Scenes The perfect starting point for creating a mock-up scene. You can use as is, like you would stock photography, or take inspiration from the layout, colour or items used, when creating your own scene from scratch.
FEATURES Simplified Version
Transparent PNG Customise the background of transparent images with colors, patterns and textures, while keeping the simplicity and ease of use of a PNG.
Layered PSD's, JPG's and PNG's If you prefer to use software other than Photoshop, such as Pixlr Editor or Procreate, then layered PSD files are set up for your use here. You'll also have the items in JPG's and PNG's for quick and easy use across all software.
READ BEFORE BUYING
Total size of files 45.85 GB. The files for this download exceed the 1GB allowed on Creative Market. Once you buy this bundle you will receive an interactive PDF with links to the direct downloads.
Please note that this is a limited time offer. Once you have purchased the bundle, the download link will expire after 3 months.
You are purchasing the products as they currently are offered, so if any of the editions are updated in the future you will not receive the update.
UPDATE The entire Summer Bundle has been migrated to our Amazon S3 servers. That means, direct download from your Custom Scene account. Enjoy!