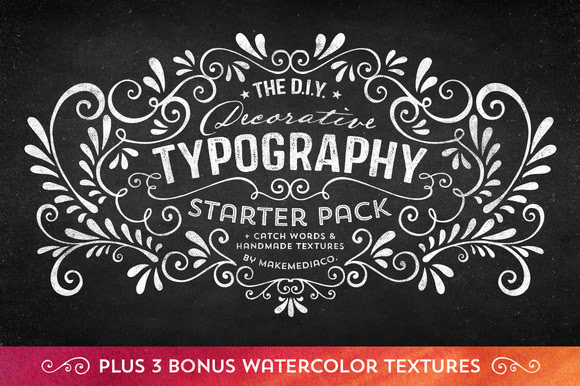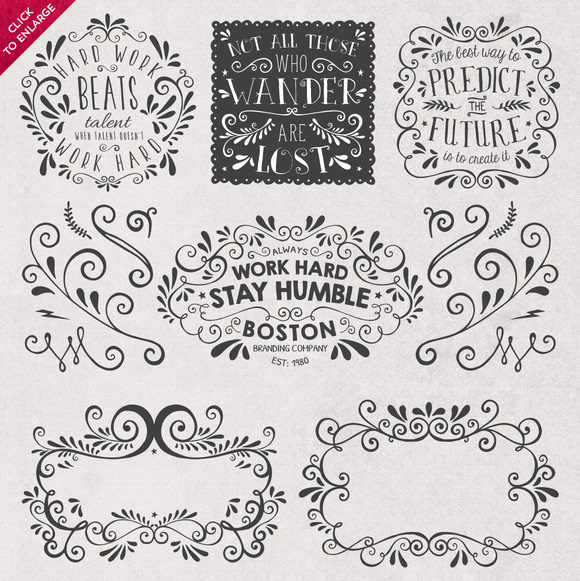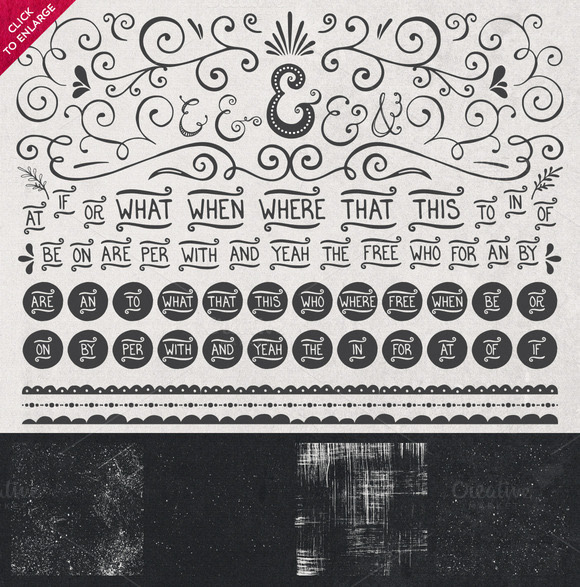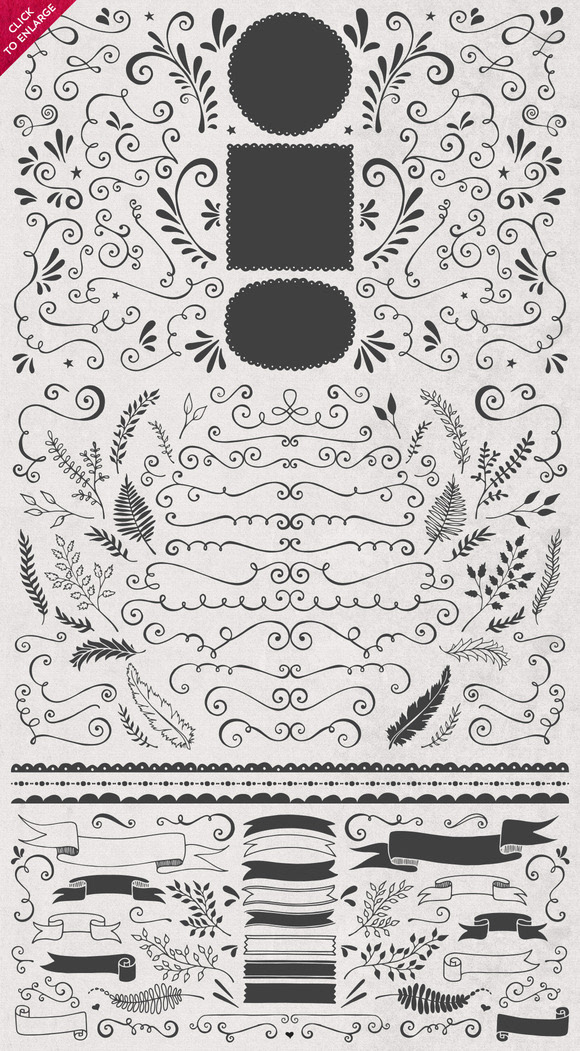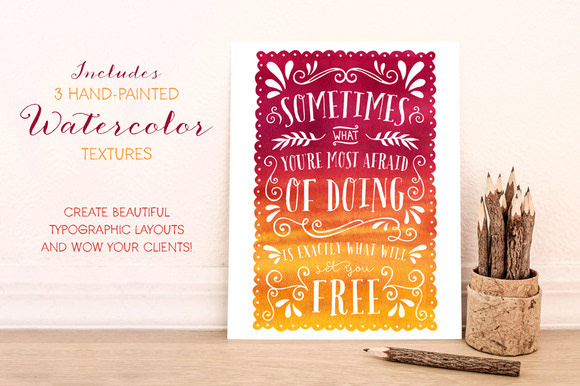 +++++ REQUIRED SOFTWARE: ADOBE ILLUSTRATOR CS OR NEWER +++++
NOTE: A few people have reported an empty fold upon extraction. If this happens, just shoot me a message. I promise you, the file is NOT empty. I've re-zipped and re-upload the kit and hopefully that takes care of the error, but if not, just let me know and I'll get those files to you ASAP!
Introducing the Do It Yourself, Decorative Typography Starter Pack!
Ready for some tasty new vectors? I wanted to create a package offering everything that I use when I take on custom type projects. This beefy pack includes ornaments, droplets, lacey shapes, floral elements, decorative swirls, curly dividers, frames, ampersands, banners, vector textures, pre-designed typographic templates, catchwords, and more. Everything is crafted by hand, everything is new, and it's all for your creative pleasure. 
Have fun making some awesome typography projects (or logos...or whatever you want). :)
Impress your friends, impress your boss and make your mama proud. ;)
Here's what you get:
• Over 115 'Unique' Hand Drawn Vector Elements (no duplicates counted)
• 24 Catchwords in 2 versions (48 total)
• 5 Hand Drawn Ampersands
• 18 Banners
• 4 Pre-designed typography templates (for a little inspiration)
• 2 vector frames (Just ad your own text)
• 4 Vector Textures (I literally made these in my kitchen with a bottle of ink, some paper and a brush)
• Font list with all the links you'll need to download the free fonts (.pdf)
• 3 BONUS Watercolor Textures
And, if that wasn't enough to get your creative juices going, I threw in the watercolor typography design in the last preview. (Illustrator files only & mockup not included). 
Included file types: 
• Adobe Illustrator CS - 6 Total .AI Files
• Adobe Illustrator CS - 6 Total .EPS Files
• Adobe Photoshop CS - 5 Total files. Each on a single canvas. 
Note: You will NOT be able to edit the text on the Photoshop versions.
Make sure you click on each image to enlarge and scroll down...The goodies extend beyond the previews.
Use these elements in any project, personal or commercial. Just make sure to read the Simple License agreement and don't re-sell these as your own.
This project has been a serious labor of love, so if for some reason you're not happy with it, please, please, please just send me a private message and tell me what I can do to help you out. As always, I'm more than happy to help! :)
Get it here