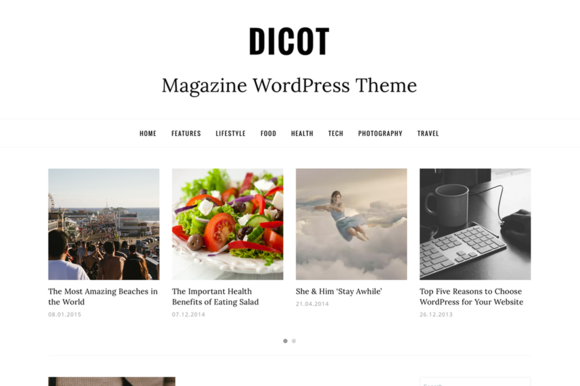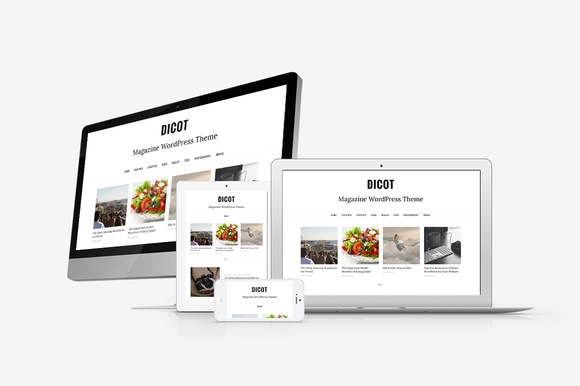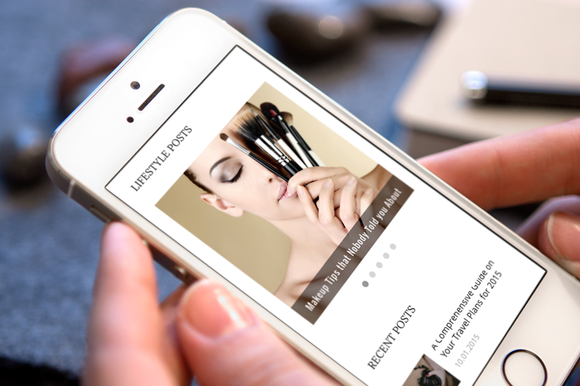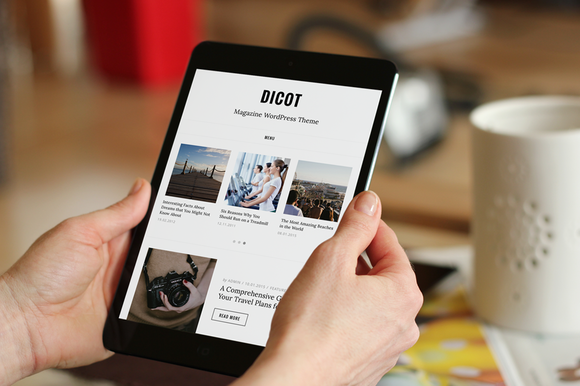 Dicot is a magazine, news or blog WordPress theme with clean and modern design. Dicot is completely responsive and created with most modern technologies.
Featuring wide or boxed layout, sidebar positions, sticky menu, featured posts carousel, custom widgets, and many more useful and interesting features which make your work easier.
We hope you will enjoy it and have a good time publishing your articles.
Fully Responsive Layout & Retina Ready
Dicot WordPress theme can work well on many different kinds of screen, resolution ranging PC, laptops from smart phones. Surely, you can experience with the most perfect way although what device is used.
Elegant Clean Design
Elegant and stylish minimalistic design of Dicot WordPress theme is created to meet all modern requirements and trends.
Sticky Menu
Modern and sticky custom menu is an awesome feature of Dicot WordPress theme.
Featured Content Carousel
Dicot has an eye catching featured content carousel, allowing you to showcase the biggest stories on your site. The twelve most recent posts tagged as featured content will be displayed in a beautiful carousel of images on the homepage.
Post Formats & Featured Images
Dicot supports Post Formats and Sticky Posts. Aside, Audio, Gallery, Image, Link, Quote, and Video post formats give your website a beautiful look.
Featured Images are displayed along the post title on the home and archive pages.
Post Carousel & Post List Widgets
Dicot includes Post Carousel and Post List widgets to enhance your sidebar. These widgets display blog posts in the form of beautiful carousel and in a list with a beautiful thumbnail alongside the post title and date from all or one specific category.
Custom Header & Background
You can personalize your site with a custom header and background via the Customizer.
Site Logo
Dicot provides built-in interface to upload your site logo with an ease.
Suave Typography, Pull Quotes & Content Focused
Dicot is designed to be straightforward to the main content with an elegant typography and pull quotes.
Widget Areas, Footer Menu & Social Media Links
Dicot comes with four widget areas — one in the sidebar, and up to three in the footer. The footer widget areas will activate once you drag widgets to them in Appearance → Widgets.
There is also a secondary custom menu and social media links in the footer.
WooCommerce Compatible
Dicot is compatible with the WooCommerce for selling products.
Feature Details
HTML5 & CSS3
100 Percent Responsive Design
RTL Fully Support
Google Fonts
Custom Colors
Custom CSS
Site Logo
Featured Content Carousel
Infinite Scroll
Boxed and Wide Layout
Right and Left Sidebar
Post Formats
Featured Images
Custom Background
Custom Header
Custom Menu
Custom Widgets
Post Carousel Widget
Post List Widget
Threaded Comments
SEO Friendly
Font Awesome
Translation Ready
Clean & Suave Typography
Cross Browser Compatible
Detailed Documentation
And much more…
Required Plugin
Jetpack Plugin ( https://wordpress.org/plugins/jetpack/ )
Theme Benchmark
Tested at: WordPress 4.2
Requires at least: WordPress 4.0
Tested at: WooCommerce 2.3.10
Theme Support
Please use one of the following ways for support inquiries.
Dicot Documentation ( http://designorbital.com/community/threads/dicot-wordpress-theme.282/ )
Dicot Support Forum ( http://designorbital.com/community/forums/dicot-wordpress-theme.22/ )
Contact Form ( http://designorbital.com/contact/ )
Changelog
= 2.0 =
Release Date: June 04, 2015
New : WooCommerce support added.
New : WooCommerce: Options added in theme Customizer i.e. Appearance - Customize - Theme
New : WooCommerce: WooCommerce sidebar page template added for the WooCommerce pages having shortcodes e.g. Cart, Checkout etc
New : Full width page template added.
New : Jetpack Related Posts: Styles added for the related posts module.
Enhancement : Responsive: Improved responsive layout.
Enhancement : Jetpack: Code organized.
Enhancement : Featured Image: Mouseover effect is implemented via CSS by removing jQuery `animationInit` function.
Enhancement : Back to Top: Lowers down the speed for back to top.
Bug Fix : Post Format Quote: Background featured image fixes on Infinite Scroll post load.
Bug Fix : Featured Content: Theme Skin secondary color fixes.
Deprecation : Fitvids: Removed in favour of Jetpack responsive videos.

Heads Up : Theme Custom CSS section i.e. Appearance - Customize - Theme Custom CSS will be removed in favour of Jetpack Custom CSS module in the next version.
= 1.1 =
Release Date: February 09, 2015
Enhancement : RGBA color added for site description in the site header for custom header color.
Update : Font Awesome: Updated to version 4.3.0
= 1.0 =
Release Date: January 22, 2015
Initial release.