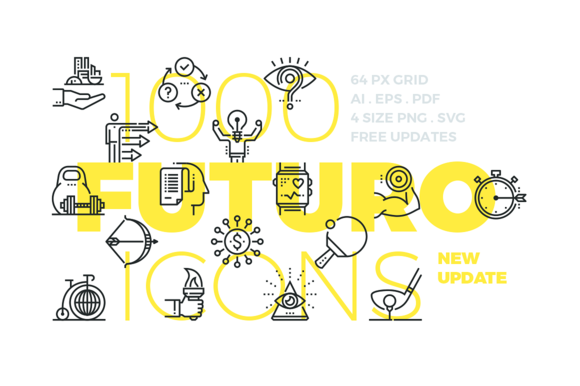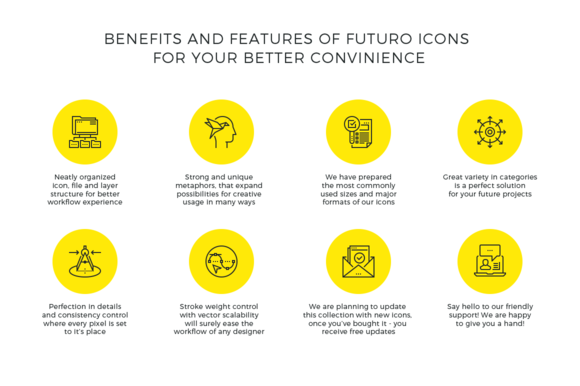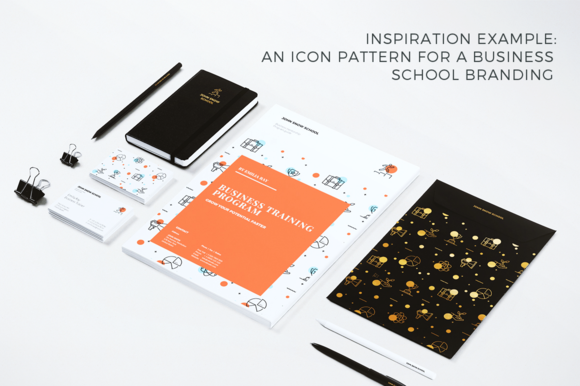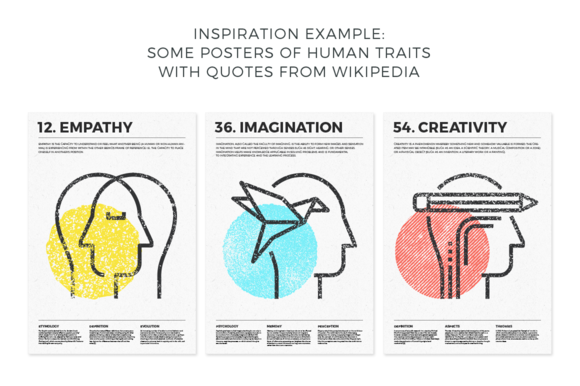 Dear Friends, we are glad to present you our best icons collection that we're develop during the last year — Futuro Line, which consists of two styles, Line and Spot versions. It is based on our previous collection Futuro Illustrations, however many symbols were reimagined and upgraded, also we added a lot of new icons, and now we organized them in 20 theme based sets.
Icon organization has become much more comfortable to use, as each icon has it's name and sets number, all of the icons are accurately sorted in folders according to size. We are planning to add new icons from various fields of activity, and after a purchase of the collection you'll have an ability to get updates absolutely for free.
15.01.16 We have added a new visual styling under the codename Futuro Spot. Also, we have made a few examples on how to use current collection. Symbols combine perfectly, complementing each other - which will gain you almost infinite creative opportunities when creating your own design.
22.02.16 Added new 6 sets (120 icons) related to Medicine, Chemistry, Science, Technology, Security, Future, Digital Marketing and Advertising topics. We have also a bit reformed the system of icons organization, now both style are available in a single file, and the individual icons we sorted by size for quick and easy access.
10.05.16 Added new 10 sets (200 icons) related to Business, Sports, Fitness, Development, Management, Productivity, Human Relations and etc.
What makes Futuro Line a special collection?
Strong and unique metaphors, that expand possibilities for creative usage in many ways;
The detail level of symbols is thoroughly handcrafted, rendering them limitlessly usable not only just for digital design but almost in any ever possible creative field;
Neatly organized icon, file and layer structure for better workflow experience;
We have prepared the most commonly used sizes and major formats of our icons;
Perfection in details and consistency control where every pixel is set to it's place;
Stroke weight control with vector scalability will surely ease the workflow of any designer;
We are planning to update this collection with new icons, once you've bought it - you receive free updates;
Say hello to our friendly support! We are happy to give you a hand!
What's inside the box?
1000 pixel perfect vector icons based on 64px grid;
One AI CS6 file (two styles of icons, editable strokes, editable texts);
One EPS CS4 file (two styles of icons, editable strokes, editable texts);
One PDF file (vector format with editable texts);
PNG files (for the both versions, ideal for a quick preview of all icons);
Ready to use assets:
Isolated PNG in 4 sizes of both versions (64px, 128px, 256px, 512px);
Isolated SVG of both versions with a full stroke control;
Isolated SVG of line version with expanded stroke (perfect for creating a web font);
Font that is used for text is Montserrat Font (SIL Open Font License) available for download here:http://www.fontsquirrel.com/fonts/montserrat
While we were making this project we've truly fallen in love with it. We sincerely hope that this collection will be of maximum use for you and will help you to complete everything you have in mind.