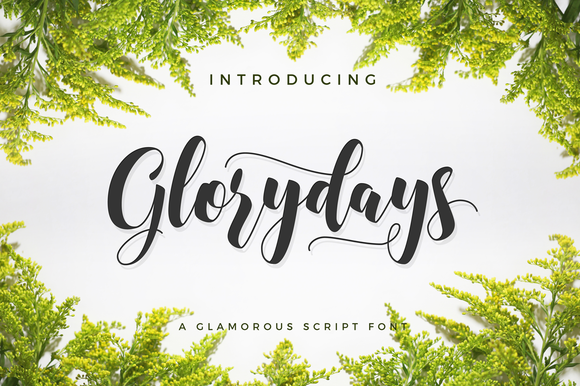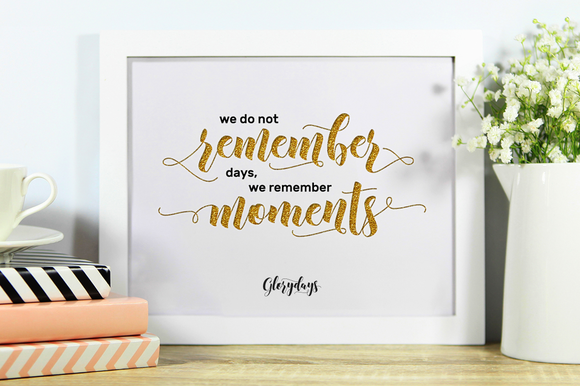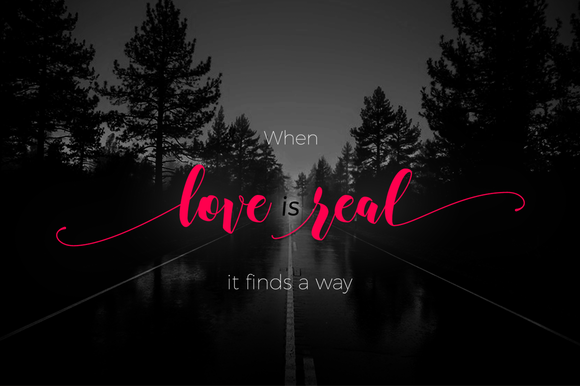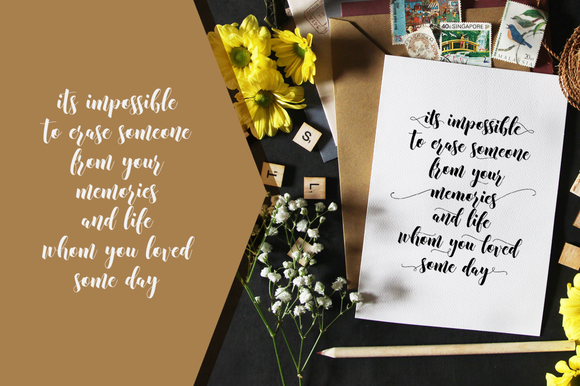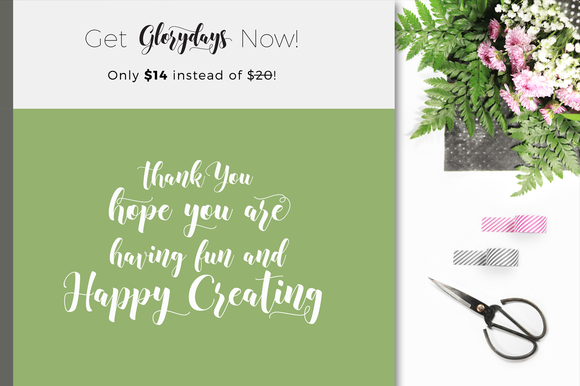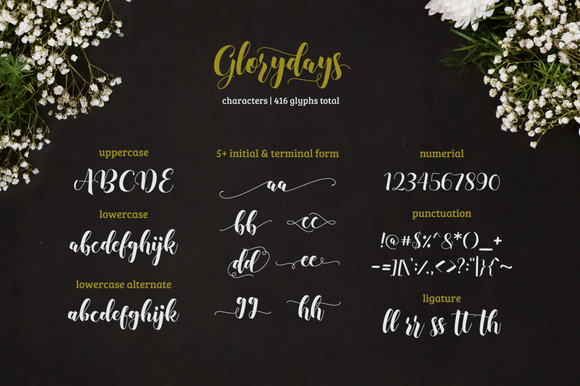 Get Glorydays Now! Only $14 (30% Off) !
Glorydays is a glamorous calligraphy / script and sans serif (allcaps) font.
Glorydays typeface is suitable for any design needs, modern invitation design, branding, blog design, modern advertising design, invitation, Art Quote, Home decor, Book/Cover Title, Invitation, special events, birthday, custom mug, pillow, t-shirts, any brush lettering needs and more.
Glorydays typeface have 473 glyphs, comes with upper and lowercase Standard Characters, Punctuation, Numerals. And other Glyphs variation of the OpenType features such as Standard Ligature, Stylistic Alternate and 12 Stylistic Set (ss01 - ss12). Accessible in the Adobe Illustrator and adobe indesign Glyphs panel, or under Stylistic Alternates in the Adobe Photoshop OpenType menu. and Accessible the glyphs in the CorelDraw on the Menu Bar click Text select Insert Character.
Whats include :
Glorydays Reguler (.ttf & otf) : Includes opentype features.
Glorydays Italic (.ttf & otf) : Includes opentype features.
Glorydays Sans (.ttf & .otf) : Allcaps Typeface, perfectly combine with one another to create beautiful typography.
Glorydays Script supports the following languages : Albanian, Basque, Breton, Chamorro, Dutch, English, Finnish, Frisian, Galician, German, Italian, Malagasy, Portuguese, Spanish, Swedish.
The Standard License for Fonts now covers Commercial use. Installable items (Fonts and Add-Ons) can be used in an unlimited number of projects and End Products for Sale.
Thank you for your purchase! and hope you're having fun with Glorydays ! Happy creating!
Yipia Nesia Studio
Malang - Indonesia