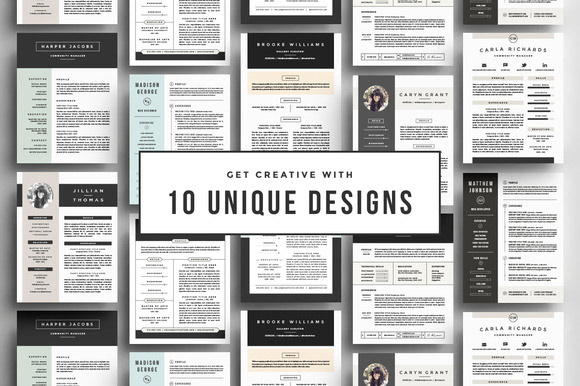 $182 worth of resume and business card templates for $29!
Are you job hunting, totally awesome, and looking to get noticed? It's time to pull out all the stops and GO BIG OR GO HOME!
Pick up this massive bundle of resume templates - 10 of our best selling designs - and GET NOTICED! From the first hello in your covering letter to your glowing references, let potential employers know that you're the full package.
// Included with this bundle - 10 thoughtful and stylish resume designs that come complete with:
Resume template in .ai, .psd and .docx format
Resume optional second page template in .ai, .psd and .docx format
Cover letter template in .ai, .psd and .docx format
References template in .ai, .psd and .docx format

A list of all the necessary fonts, plus links to download them for free
// Features
Includes 300dpi CMYK templates in Illustrator AI, Photoshop PSD and Microsoft Word DOCX file formats
Organized into well-labelled layers for easy customization and updates
All artwork and text are FULLY CUSTOMIZABLE; easily edit the typography, wording, colors and layout
That's right - all resumes come in formats suitable for Microsoft Word, Adobe Photoshop AND Adobe Illustrator! Choose whichever software works best for you, because you're a rockstar.
Oh snap, you don't have Microsoft Word or Adobe Photoshop/Illustrator? No worries! You can downloadfree
30-day trial versions here:
http://products.office.com/en-us/try
https://creative.adobe.com/products/download/photoshop
https://creative.adobe.com/products/download/illustrator
Matthew, Madison, Brooke and Harper - the gang's all here! 10 of our hottest selling designs available in one ridiculously discounted bundle! Decisions are tough enough, make things easy by taking them all home today. Customize them into your personal creation, and get the call back - you deserve it you creative genius!
Oh wait, is that not enough stuff for you? How about this AWESOME BONUS - 4 additional BUSINESS CARD TEMPLATES! Don't forget to look fresh with these professional and tasteful business card templates; nail that next blog conference, shine at that upcoming networking event and leave a lasting impression at your next Meetup.
// Each business card design includes:
Two-sided business card template in both .ai and .psd format
A list of all the necessary fonts, plus links to download them for free
Standard dimensions 3.5" x 2" (3.75" x 2.25" with bleed)