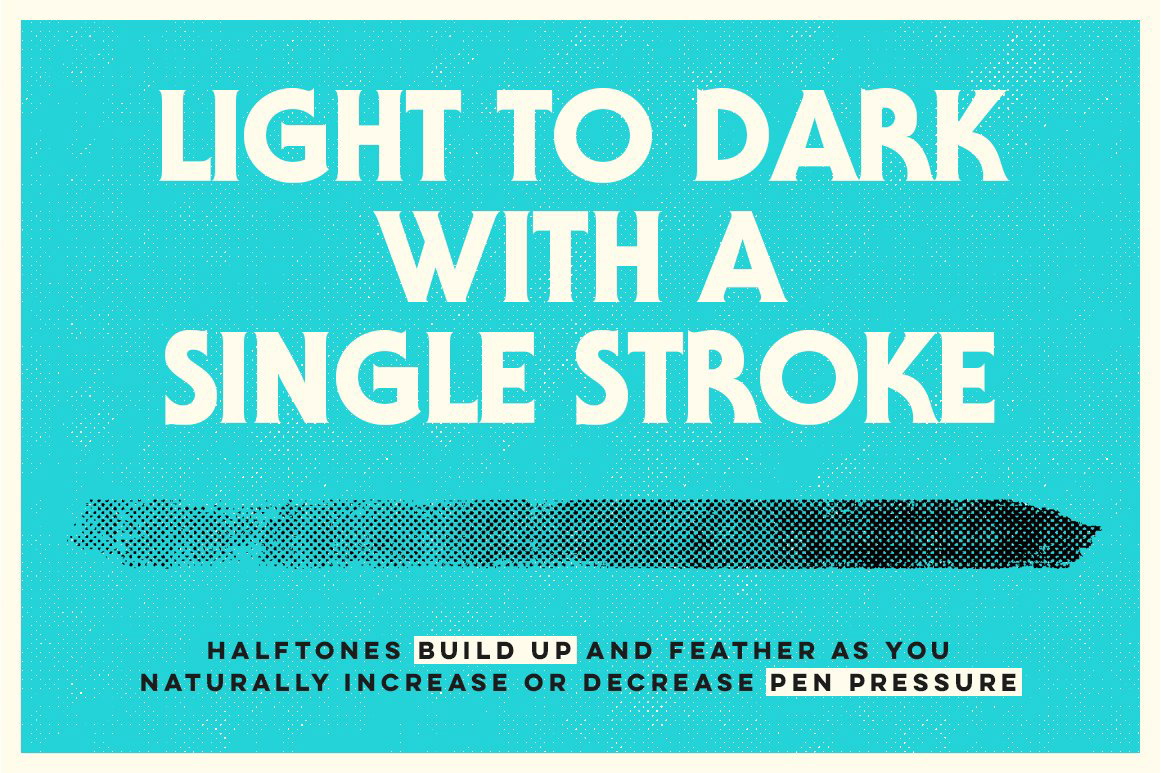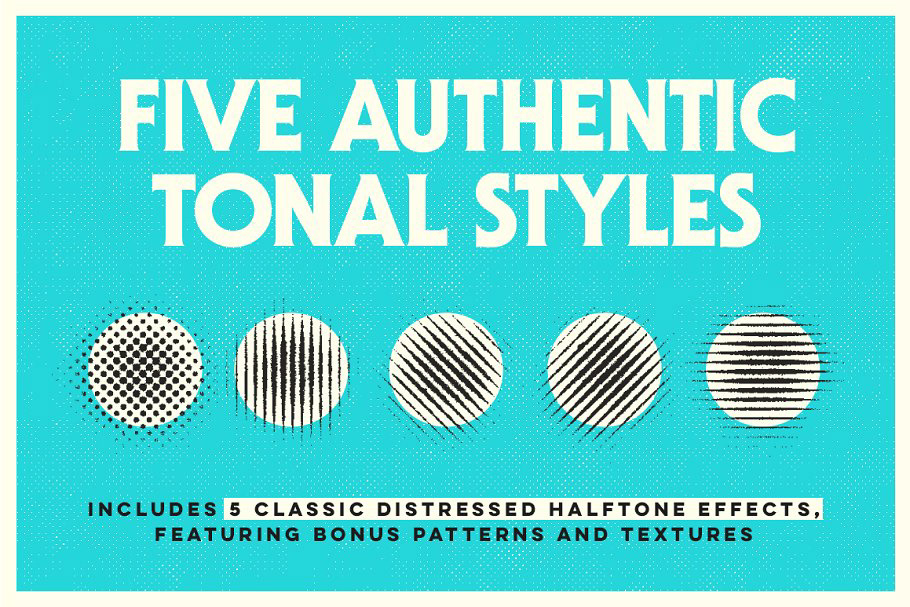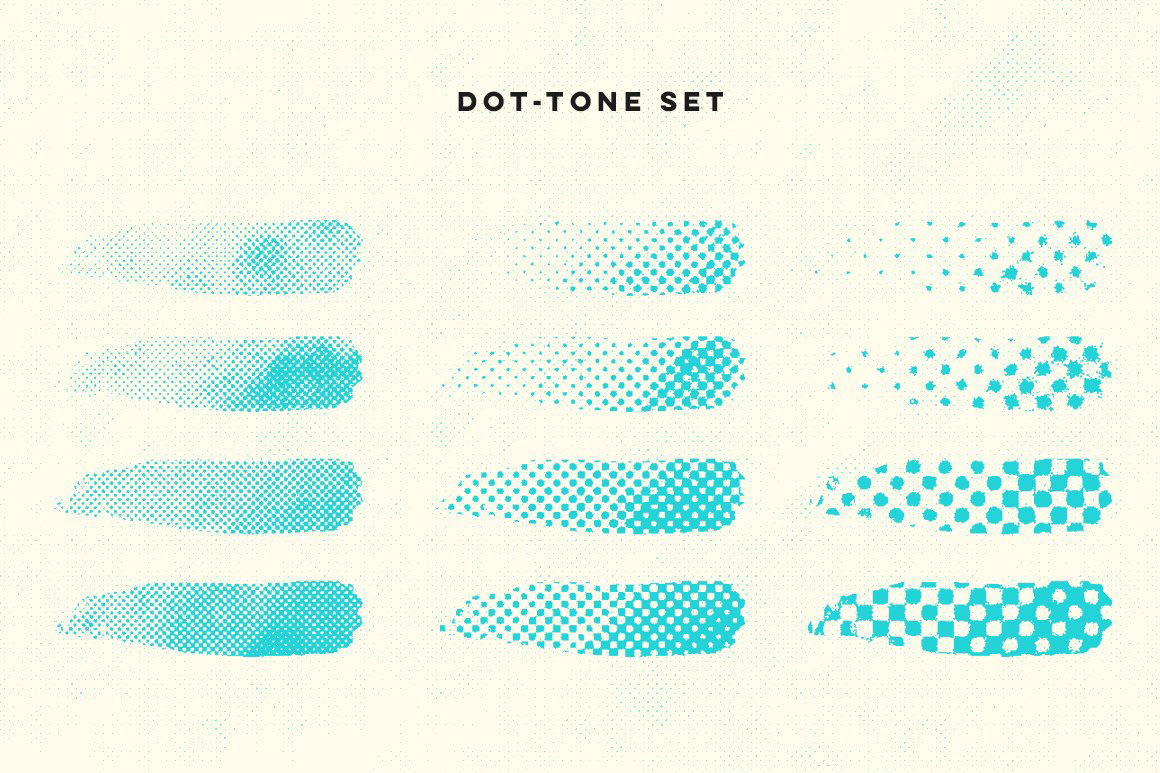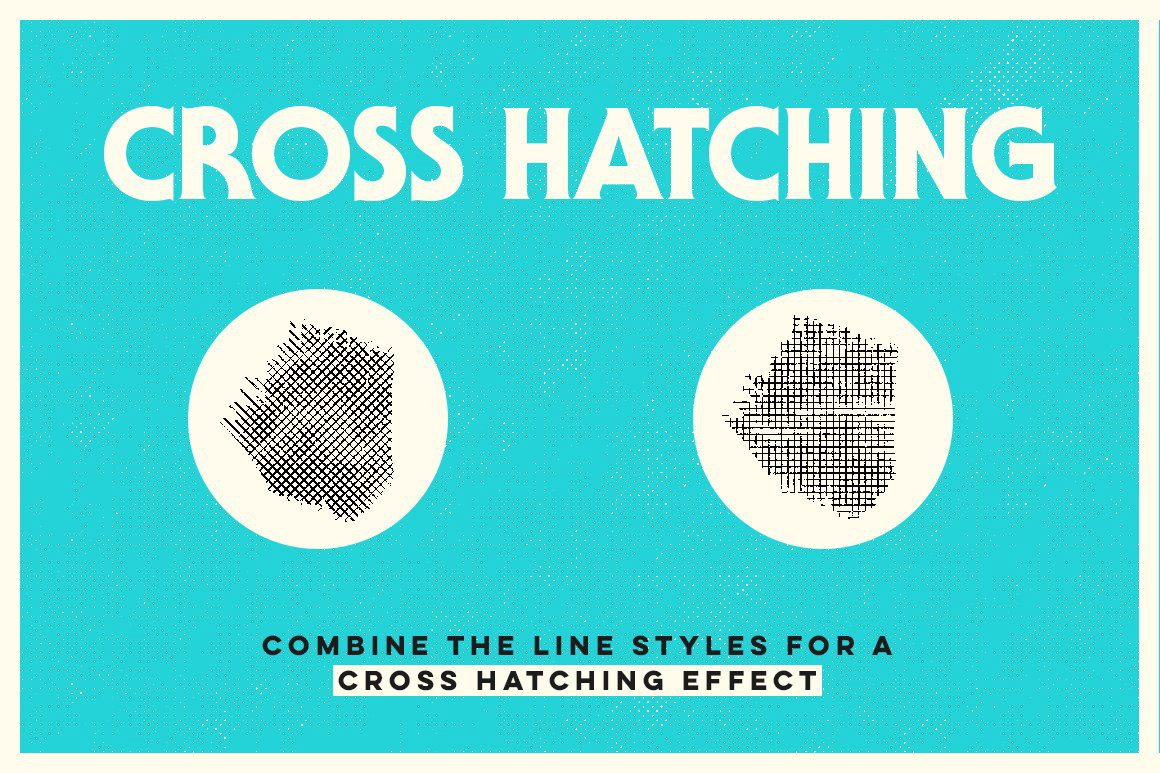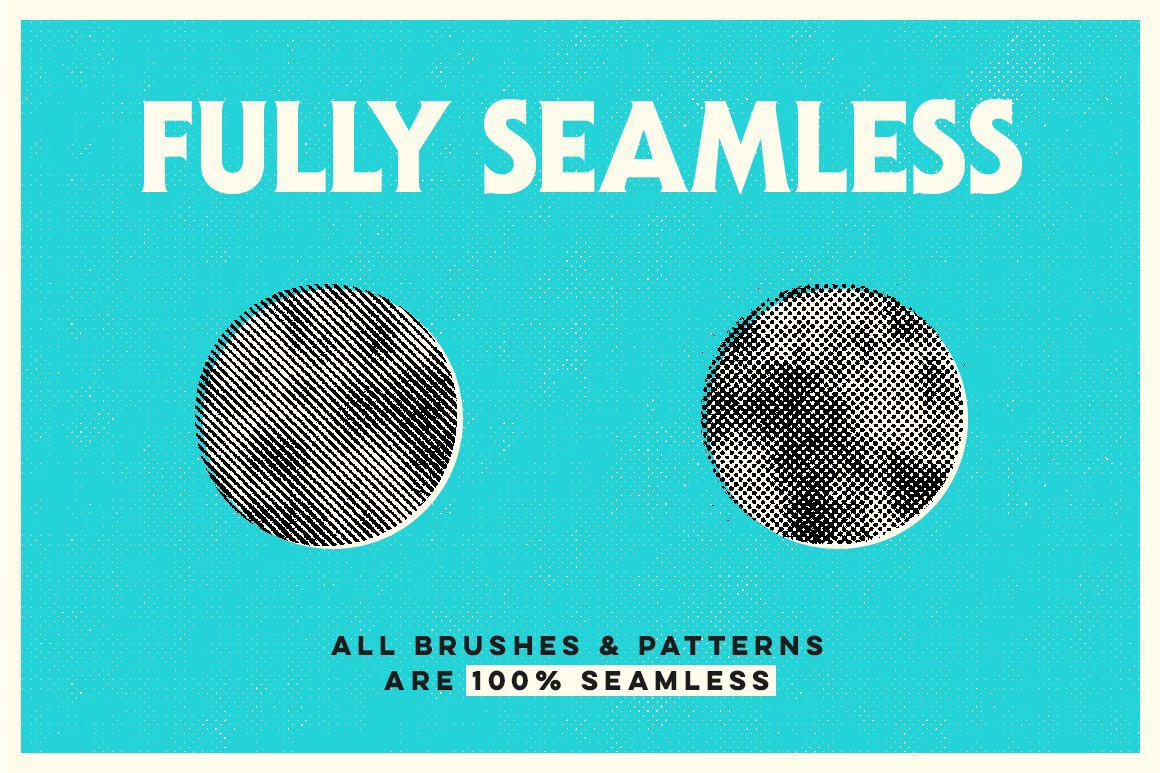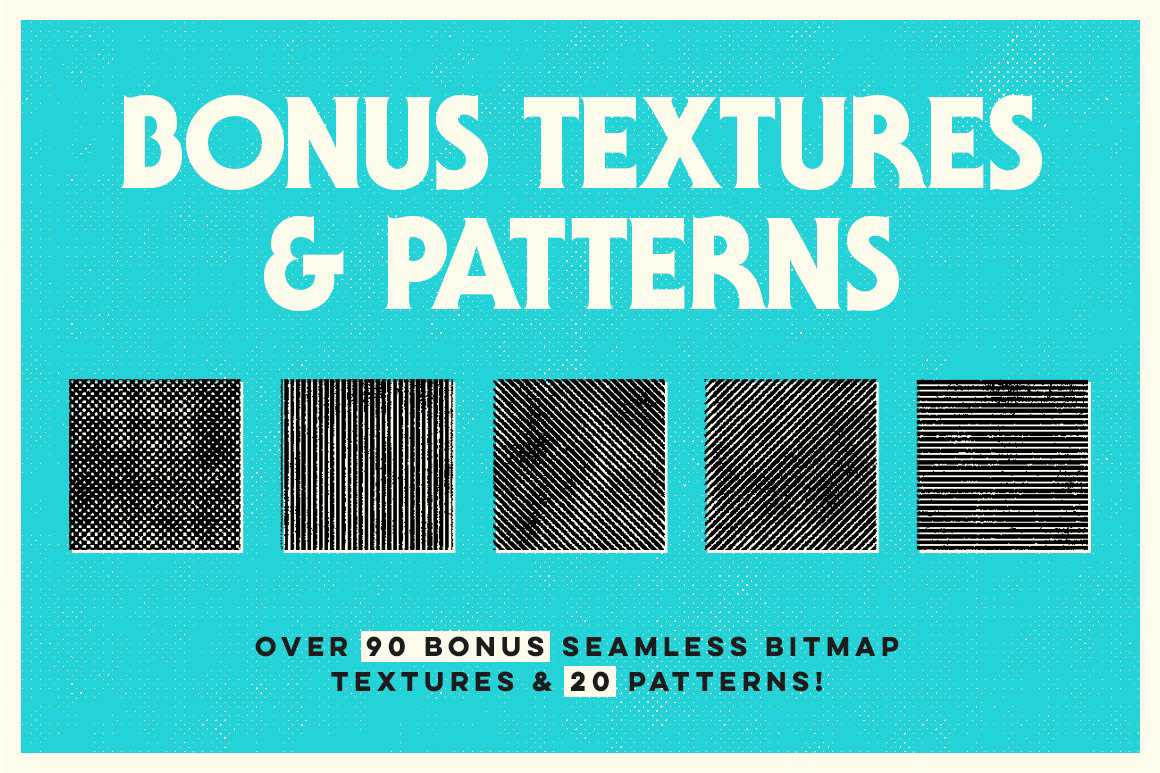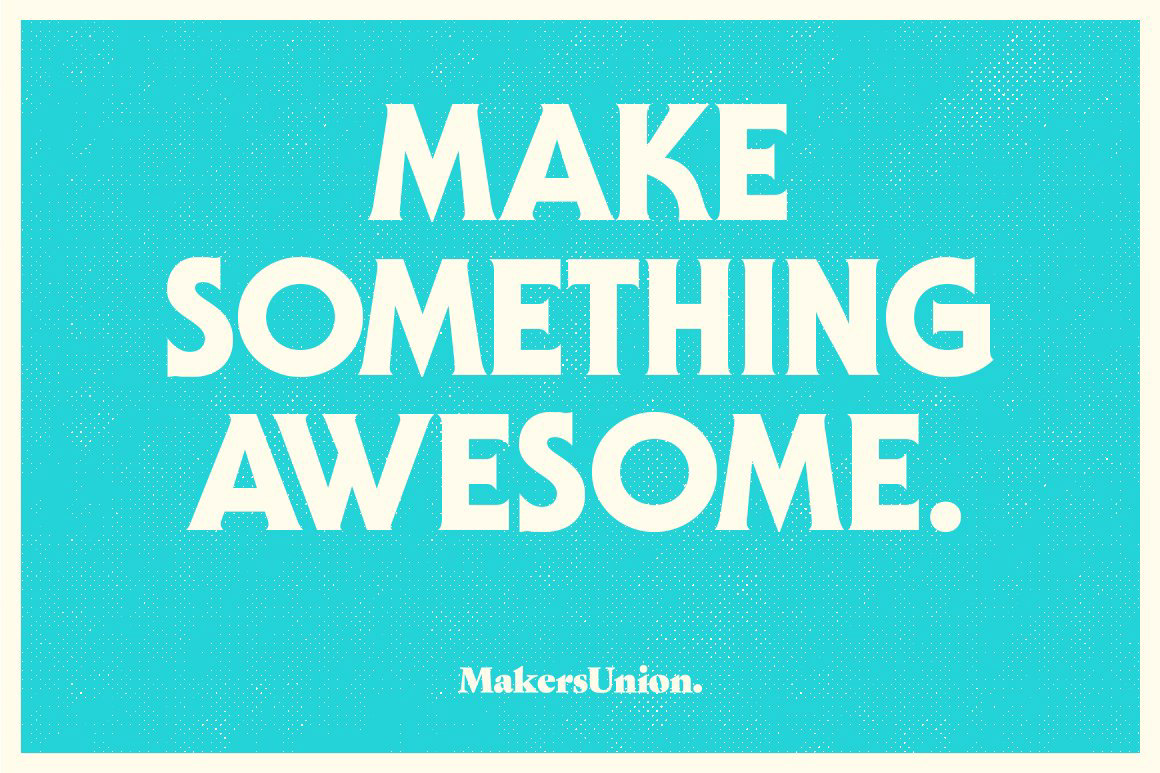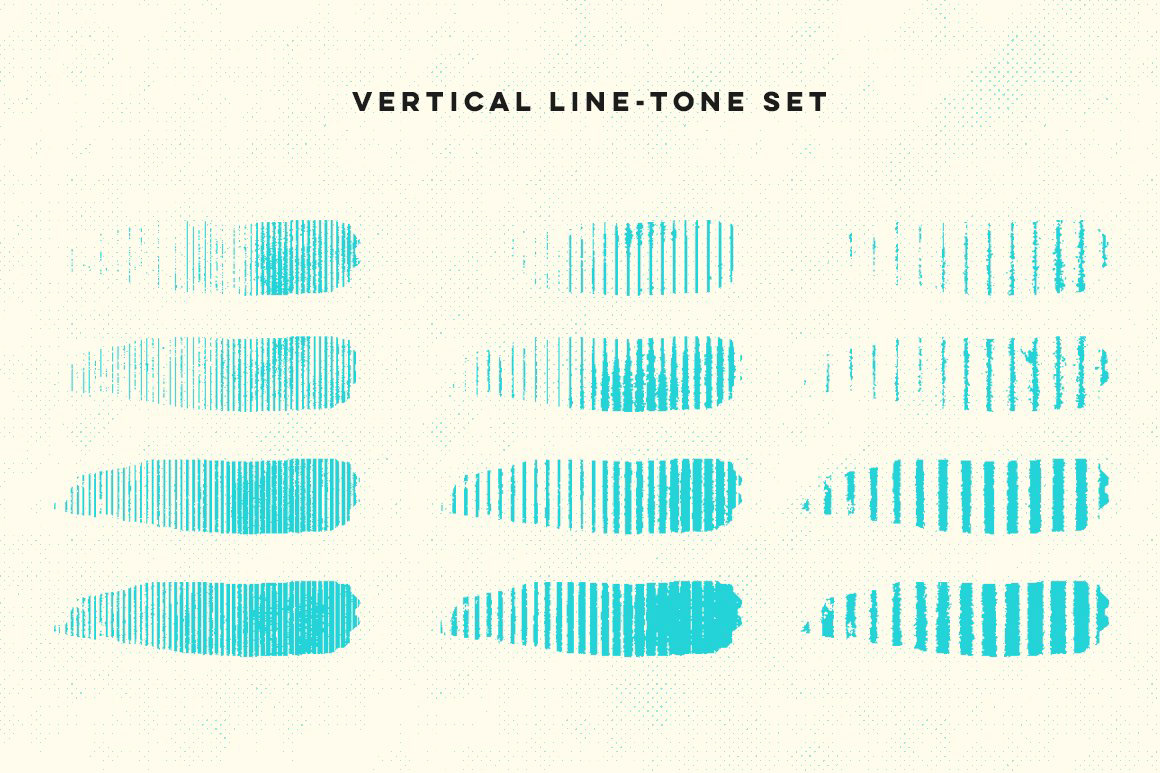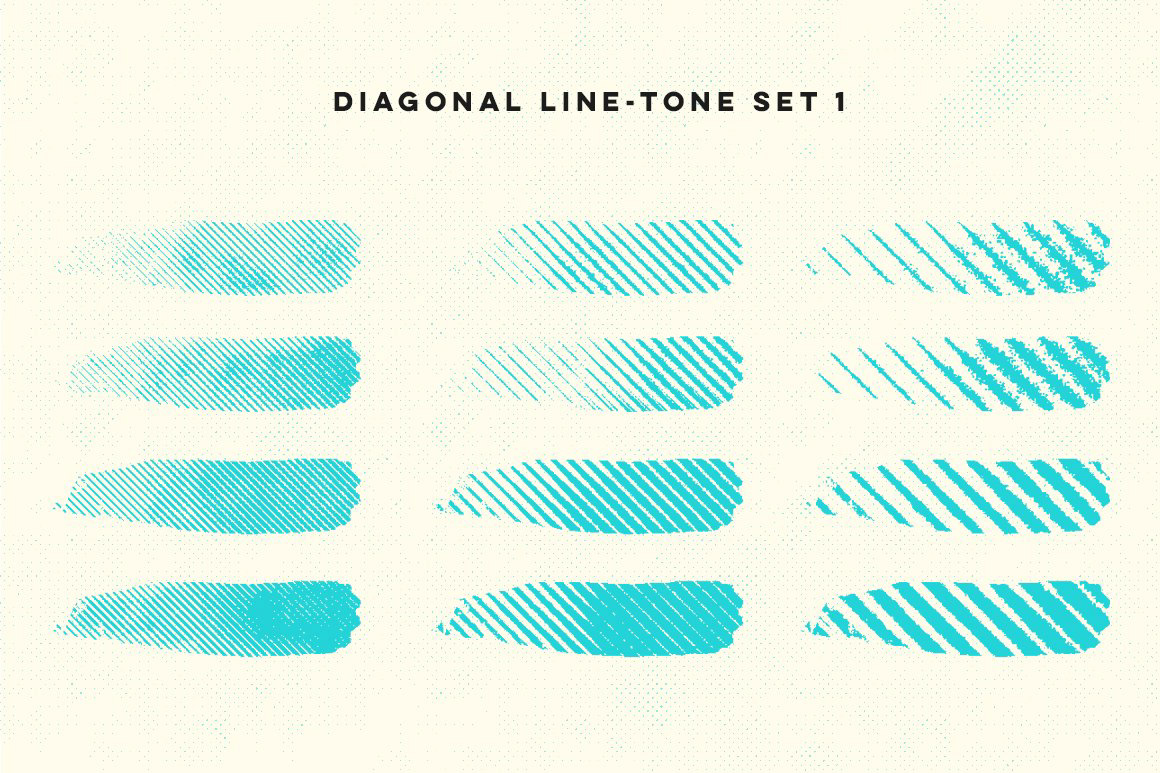 PressTones - Distressed Pressure Sensitive Halftone Brushes for Photoshop + BONUS seamless patterns and Bitmap Tif library
MakersUnion PressTones Photoshop Brushes are the result of weeks of creation, testing, re-testing and fine tuning HUNDREDS of authentic halftone patterns. We've explored dots, lines and textures and have offered to you a COMPLETE set of the BEST from our personal library.
CONTROL: We've taken advantage of pressure-sensitivity, with today's incredible stylus options, to give you MASSIVE control over your halftone brushes. Light pressure gives you a small dot, heavy pressure gives you a thick dot and everything in-between. Don't have a pressure sensitive stylus? No worries, we've included four levels of weight for each of our brushes with great shading options.
DETAIL: Using our custom, seamless, gritty textures we engineered small to large detail patterns that you can use depending on your project needs. Whether you intend to add a small hit of halftone to a flat illustration or add a full-page texture to your gig-poster, you'll get what you need to make it awesome.
BONUS: As an added bonus to this brush kit, we're throwing in our SEAMLESS 
Photoshop patterns. Fill your backgrounds, shapes or pages quickly and easily with tons of patterns. Along with our seamless patterns within photoshop, we've included a second bonus library of BITMAP TIF files that allow you to take these seamless bitmap textures to Adobe Illustrator and Adobe InDesign. Bring them in, change the colour and tile to make use of your investment in new and creative ways for print or online.
What you get with your purchase: -PressTones Photoshop Brushes. -PressTones Bonus Photoshop Patterns -PressTones Bonus Seamless Bitmap TIFs -PressTones Guide including brush, pattern and texture legend
Brushes: PressTones has been offered in pressure-sensitive Photoshop Brush file (.abr) and easily installed. Tons of options and variations with halftone line in vertical, horizontal, 45° and -45° in three different pattern sizes (sml, med, lrg) and four different weights from extra light to heavy. Whether you'd like to create fine detail or fill in a background, the brush texture is seamless. Use the varying degree of weight in any brush style and the pattern will line right up.
Patterns: Install your .pat files and inject photoshop patterns with a dose of halftone awesomeness. Fill your background, shape, typography or whatever with these seamless patterns and instantly add the vintage coolness of halftone!
Bitmap Tif: At MakersUnion bitmap tifs were the go-to trick for creating unique layouts in InDesign and Illustrator. Whether it was adding a cool vintage element to a magazine layout or a subtle texture to an illustration, we could do it with bitmap tifs and easily change the colour. Explore the power of bitmaps today with this this incredibly useful bonus. All files are supplied at 12"x12" at 300DPI. We sincerely hope you like this sweet new brush kit from MakersUnion! Hit the Buy Now button and start creating something awesome!
FAQ: What projects can I use this for? All design projects, art projects, Etsy products and everything awesome! (send us pictures of awesome stuff)
What can I NOT use this for? The only usage rule is that you don't re-sell or give away this kit or assets within, alone or as part of a bundle. Please don't share on the internet or make hateful things.
Is it easy to install? Sure is! See our installation guide included in your download.
If I have any questions, can I contact you? We will do our best to respond to any enquiries that are posted below or private message.
Will I get free updates when the kit is updated? Absolutely!