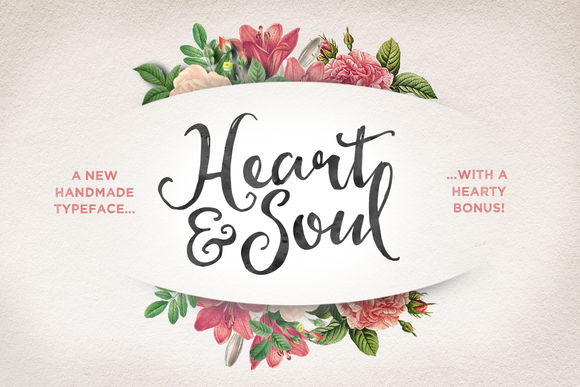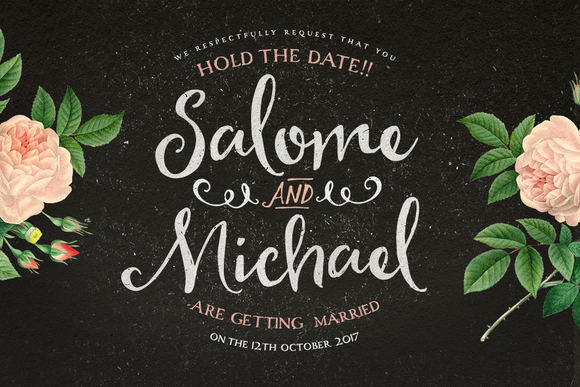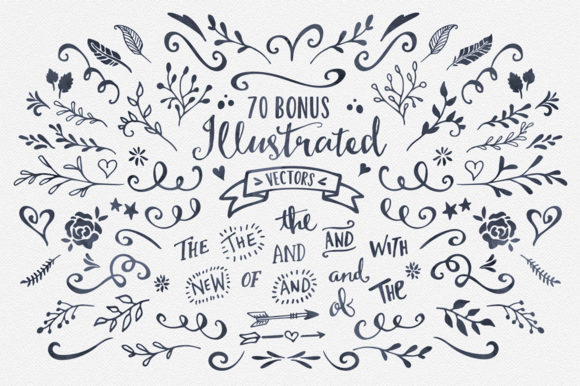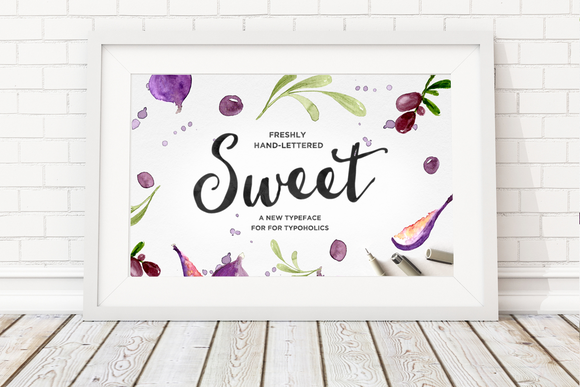 DISCOUNTED INTRODUCTORY OFFER - for a limited time only :)
Introducing Heart & Soul Typeface - a new fresh & hearty, hand-lettered script with a sweeet bonus :) I'm still in-love with all things hand-lettered, and its such great fun converting all my doodlings to something you can all use :)
With Inky lines, and wobbly paint like edges - its perfectly imperfect :) With a few extra character alternates thrown in for a genuine hand-lettered effect.
Perfect for : using in ink or watercolour based designs or on its own as a bold hand-lettered script :)
BONUS!! Included with the font is a bonus , lovingly hand-illustrated set of over 70 brand spanking new vector elements to use in your creations, AND a free set of watercolour splatter Photoshop Brushes - the ones I used to make the previews :)
WANT TO SEE MORE of the font in action? Sure! Click on Preview 4 (the little birdie) - to open it up in a new window - and scroll down, to see more inspirational designs made with this typeface :)
Whats Included!
(OTF )HeartAndSoul.otf - with extra alternates and swirlies (See preview 4 - click it to zoom, and scroll down too see all the characters)
(TTF) HeartAndSoul.ttf
(TTF) HeartAndSoul-Alt.ttf - extra bonus alternate letters & swirls .ttf font
A Bonus set of over 70 never seen before illustrated vector elements. (Ai, EPS, PDF, PSD)
A Set of 7 Handy watercolour splatter brushes for Photoshop. (.ABR)
A handy look-up font map of the Alternates ttf file for non-opentype users. (.PDF)
Personal and Commercial use is permitted - can't wait to see what you guys make! :)
Looking for some easy to use WATERCOLOUR effects to add to your designs? No worries! Find them here :
https://creativemarket.com/Nickylaatz/77899-Add-me-some-Watercolour-Quick%21https://creativemarket.com/Nickylaatz/84805-20off-%E2%80%A2-Watercolour-Graphics-Quick%21https://creativemarket.com/Nickylaatz/101296-Give-me-Watercolour-in-Illustrator%21https://creativemarket.com/Nickylaatz/94409-Give-me-some-Papers-Quick
Thank you @Ian Barnard for your gorgeous Inkwell effects - added in preview 4 :)https://creativemarket.com/ianbarnard/48563-Inkwell-Instant-Ink-Effects
Follow me on Instagram for some extra inspiration and to keep up with whats coming next :)instagram.com/nickylaatz/