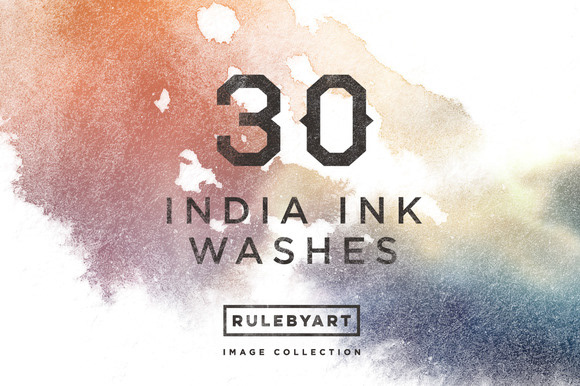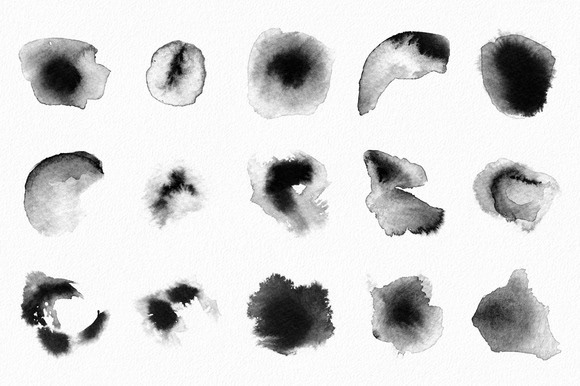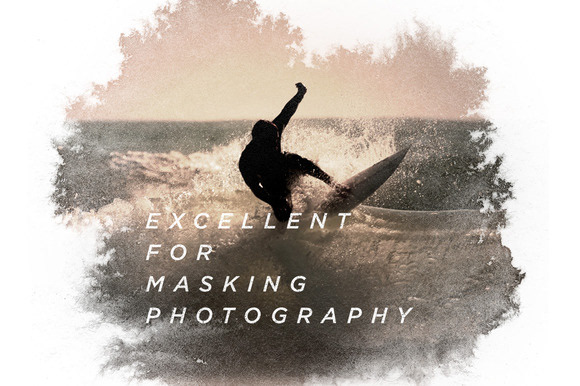 FILE COMPATABILITY 
Each image is provided as a flat jpg you can open with Photoshop and Illustrator.
India Ink Washes
India ink produces beautiful texture unlike any other material. It has a distinctive quality that enhances projects with a hand made feel.
Bring in some color by adding a Photoshop layer style over these transparent png files. Also try masking imagery and type. Example files and Instructions included.
Material fun fact: India ink is produced by combining fine soot with water. The result is quite similar to watercolour.
Compliment these washes with Ian Barnards awesome Inkwelll Set: http://crtv.mk/gbkb
Whats Included?
30 Hand Painted India Ink Washes
Dimensions: 3000 x 3000 (Pixels)
Resolution: 300 DPI
File Type: JPG
2 Preview Design Templates
PSD (edit in Photoshop)
1 Instruction document
Other awesome products
Watercolor Bundle http://crtv.mk/jWsl
55 Watercolor Patterns http://crtv.mk/fRS8
Watercolor Shapes V.1 http://crtv.mk/qQ7F
About RuleByArt
It's simple, we are artists and designers making artwork out of a passion to create. All of the work you'll find on our shop has been lovingly made by us out of our studio in Canada. We ensure every collection is of high quality and we hope it comes through in the work we create. Feel free to get in touch with any comments and/or questions. We love to hear from you.
Discover more at http://rulebyart.com/