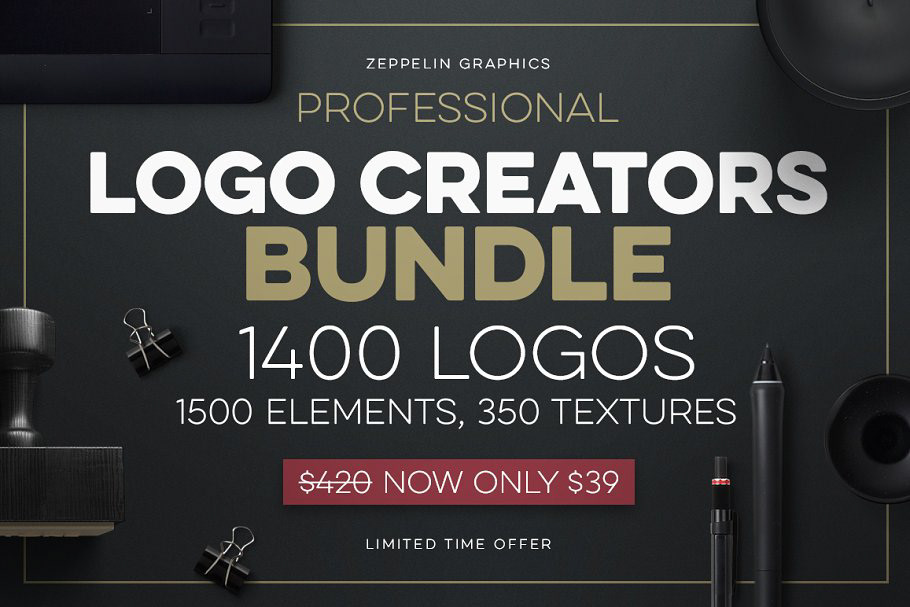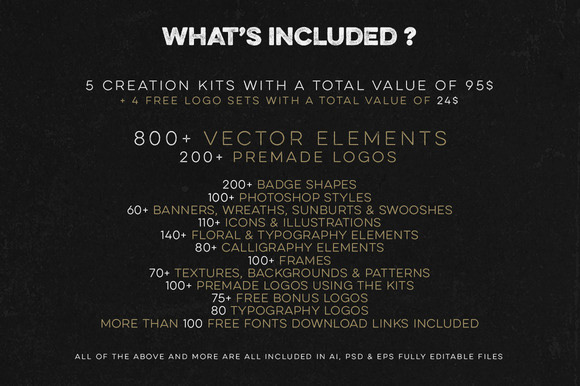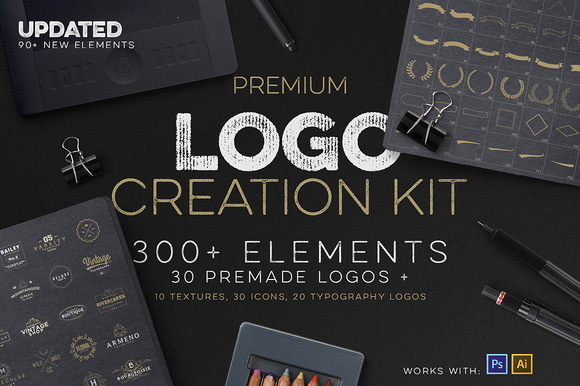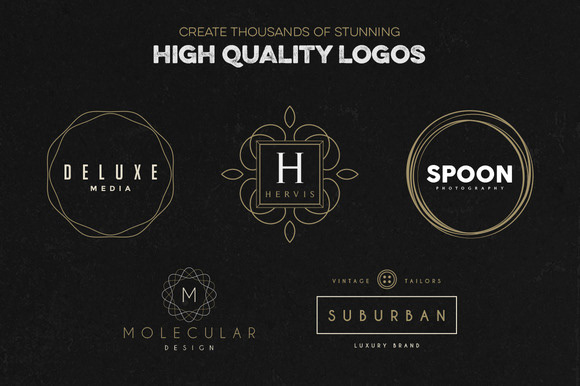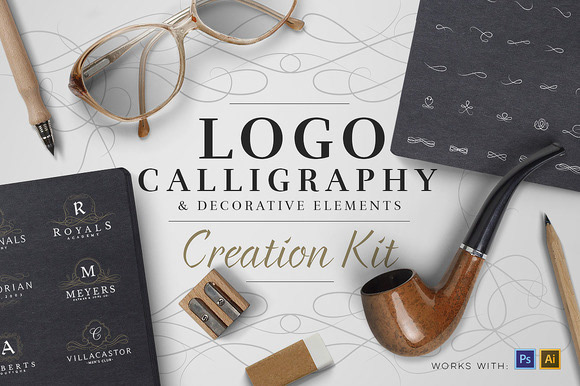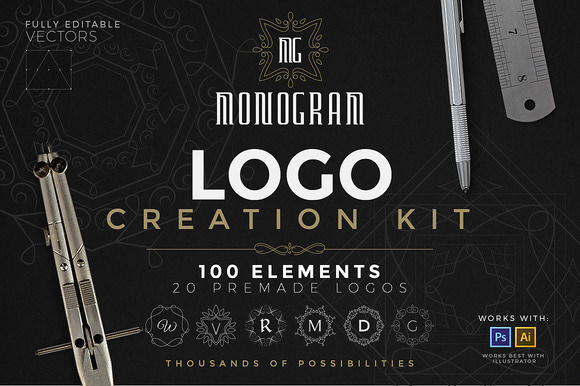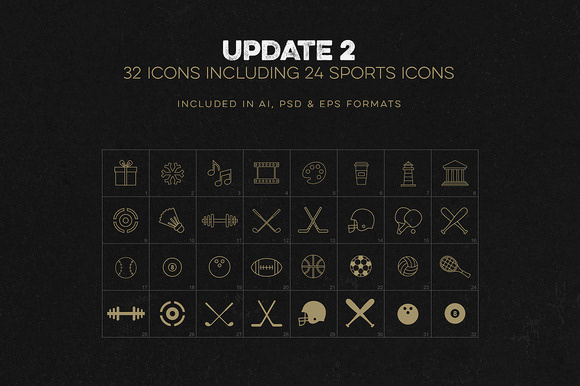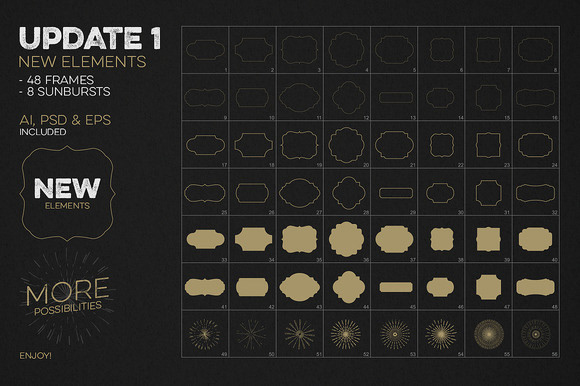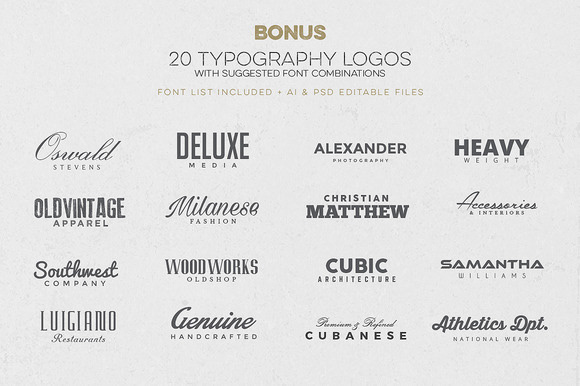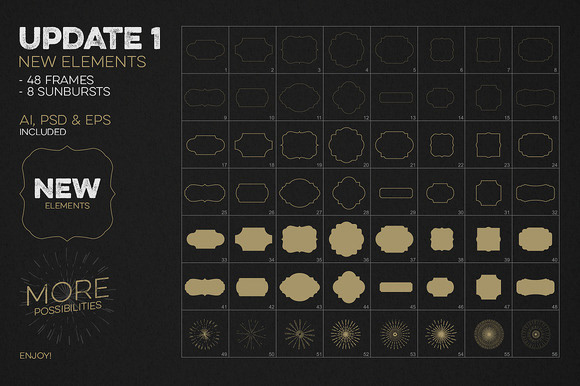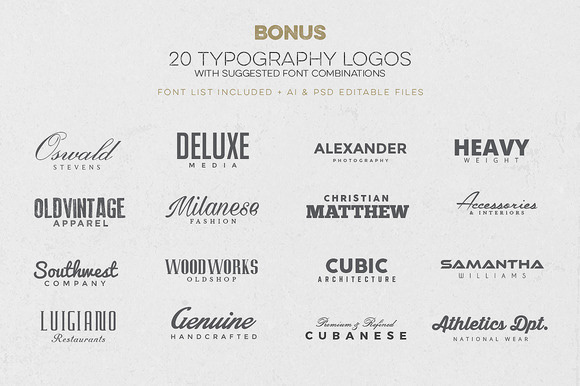 This bundle featues our 5 awesome logo creation kits and 4 free bonus logo sets, and not just any sets but some of our best selling ones! The regular price of all of the items included is 120$ and you can buy all together for only 39$!
Create stunning logos using the 900+ elements and the 100+ suggested fonts or edit the logos that are already included! You have more than 200 to choose from! We tried to make the bundle as complete as possible and we will update it in the future.
You can do even more than logos using this bundle! Using the Monogram edition kit you can also make stunning patterns and backgrounds (see the presentation images) or very complex illustrations. With the Calligraphy kit you can make a lot of calligraphic elements to include in prints or web banners. Or you can combine elements from all the sets to create awesome illustrations or typography.
General Features:
800 vector elements
All 800 elements are in AI and PSD formats
All elements (300+) from the Logos Creation Kit (original version) are also included as PSD shapes - CSH File
50 Photoshop styles from the Logo Creation Kit Vol.4 (Instructions - how to install included)
50 Photoshop styles from the Logo Creation Kit Vol.5 (Instructions - how to install included)
100+ Premade logos made with the creation kits

90 premade typography logos with 100+ suggest fonts for you to use
10 vector texture - AI & EPS Files
Textures also included as 3000x2000px, 300dpi, PNG files
Textures also included as Photoshop Brushes - ABR File
6 JPG Backgrounds/patterns made with the Monogram edition kit
8 JPG Textures backgrounds from the Logo Creation Kit vol.4 (3500x2500px, 300dpi)
50 JPG seamless pattern images from Logo Creation Kit vol.5 (1000x1000px 300dpi)
50+ PNG watercolor and coffee stains elements
30 PNG objects and animals (see Logo Creation Kit vol.5 for details)
20+ Premade decorations & frames
The 20 premade decoration & frames are included in AI, PSD & EPS formats
The logos are included as AI, PSD and EPS formats
More than 100 suggested font links
Free or free for personal use fonts
Font links included
Other Features and important notes:
The Monogram kit includes 80 premade vector elements
Vector elements Included in 3 outline weights
Also included as paths in illustrator (AI) & EPS
Illustrator (AI) and Photoshop (PSD) Files
Free Logo Sets Features:
4 Sets
75+ Logos
Editable PSD Files
Editable AI Files
Editable EPS Files
Vector Shapes
Editable Text
Fully layered
Well organised
Free or free for prsonal use fonts used
The 800+ elements include:
250+ Badge shapes
60+ Banners, sunbursts, wreaths & swooshes
100+ Frames
100+ Icons & Illustrations
140+ Floral & Typography elements
80+ Calligraphy elements
70+ Textures & backgrounds
20+ Premade decorative elements
Important notes:
In the Logos Creation Kit we left the floral elements in the Logo Elements Illustrator & EPS file as editable paths so you can choose the outline weight that you want!
In the Monogram and Calligraphy kits we also included the elements as editable paths so you can choose the outline weight that you want. Included in the AI and EPS files.
The fonts are not included as we do not own them but we included download links for all of them. All of the fonts used are free or free for personal use.
The 20 premade logos from Logo Creation Kit vol.5 are only available for Photoshop and will not work with Illustrator
We offer great support! So for any questions you might have or issues with opening or downloading the item please don't hesitate to contact us! We will do our best to reply as fast as possible and help as best as we can!
Check out the freebies on our website! Great templates and graphic design resources all free for commercial use! -www.graphicdome.com