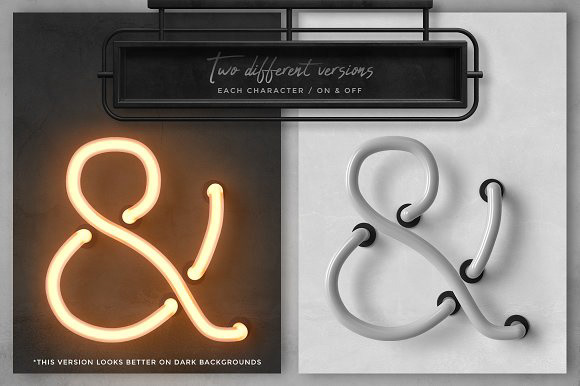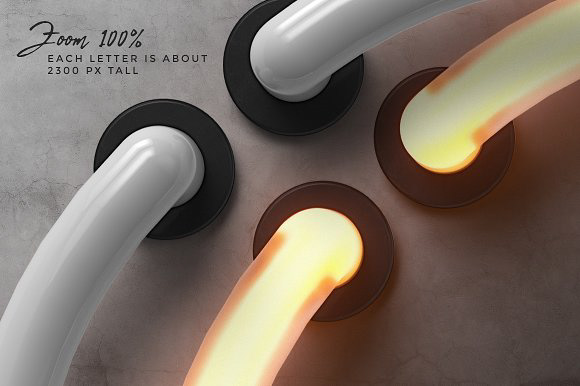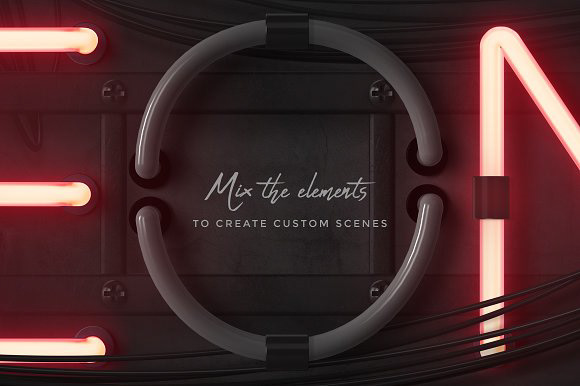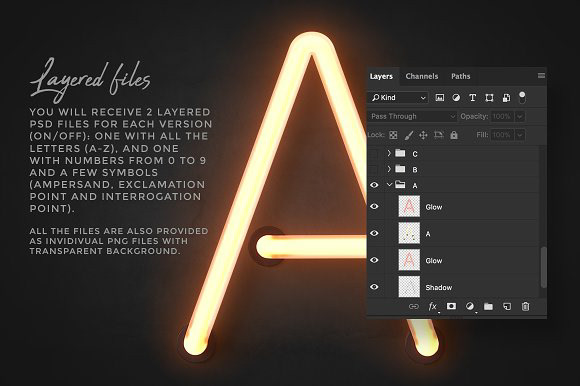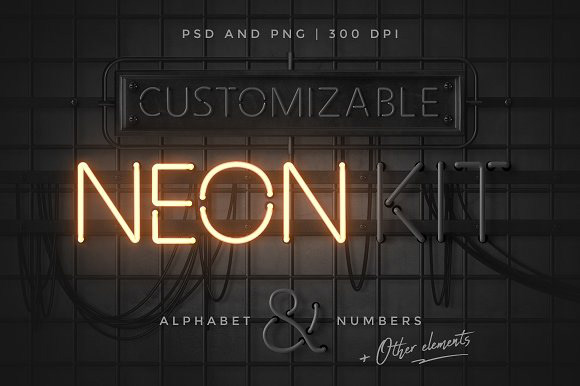 IMPORTANT: this is not a font or a Photoshop layer style/smart PSD/action- It's a set of individual PNG & PSD characters and elements that have to be manually assembled in order to create words, quotes, titles,...
Create your own neon signs with this kit! It includes uppercase alphabet (A-Z) and numbers from 0-9, as well as an ampersand, interrogation & exclamation point (see preview pictures for an overview of the contents of this kit). Just drag & drop the different elements to create your own custom scenes and composition. This kit is great for creating banners, titles, quotes,... All the elements are provided as high-res 300 DPI files - each letter being about 2300 tall. The other elements (supports, frames) are larger - up to more than 6000 px.
For each character, you will get two versions: one "on" version (with neon glow), and one off/broken version. By default, the neon come in orange color, but you have the possibility to edit multiple things, including the color, using a Hue-saturation layer adjustment, for example. I've included a PDF document with a few quick tips explaining how to customize your neon signs in Photoshop.
What's included:
NOTE: This is quite a large file, so the PNG elements are provided as a separate download link, included in the ZIP file as a Read me document.
Update 18.02.18: modified the PNG download link - if you have already purchased this product, just re-download the main file from your Purchases page to get the new link for the PNG elements if needed.
You will receive a ZIP containing:
PNG download link .rtf document
PDF quick tips sheet for modifying the neon elements in Photoshop
Alphabet "off" version: letters from A-Z, numbers from 0-9, ampersand, exclamation point and interrogation point. PSD format, 300 dpi.
Alphabet "on" version: letters from A-Z, numbers from 0-9, ampersand, exclamation point and interrogation point. PSD format, 300 dpi.
Other elements: cables, grids, supports,... PSD format, 300 dpi
2 Example scenes PSD files
Compatibility:
You will need Photoshop to use the PSD files. PNG files will work in any software that support that format. The PSD files are layered (for example, the shadows of the letters are on a separate layer, or created as an editable Drop shadow layer effect (supports, cables). The PNG files are flattened versions of the PSD's but still can be edited to some extent (for example, modifying the color of the neon glow). They are provided as individual files with transparent background.