Loking for your next Co-Working Space? 
This could be the next for your Start-Up or a full running Enterprise, located at
Office Space in Paris's Rive Gauche &  Av. des Champs-Élysées
For a professional environment that's as enchanting and innovative as Paris itself, look no further than WeWork's office space in Paris Rive Gauche. 
Occupying nine floors near BnF, this location welcomes a diverse mix of growing and established businesses across a variety of sectors. 
Beyond WeWork's hallmark amenities like front-desk service, unique conference rooms, and cozy lounges, your team will enjoy a pet-friendly policy, an energizing outdoor space, and an onsite fitness center. Plus, with convenient parking, bike storage, and Gare de Lyon just minutes away, commuting is simple no matter where you're coming from—or where you're headed. Ready to reimagine your workspace? 
Schedule your visit today.
M6 at Quai de la Gare (3 minute walk) | M14 at Bercy (10 minute walk)
Parking Indigo at Rue Abel Gance/Avenue de France (2 minute walk)
198 Avenue De France Paris 75 75013
Our team is here for you throughout the workweek, from front-desk service to personalized support.
Around the clock, our cleaning crew helps keep common areas, meeting rooms, and private offices looking their spiffiest.
These soundproofed alcoves provide comfortable sanctuaries for conducting private calls and video chats.
Refreshing fruit water to keep you and your guests hydrated throughout the day.
Dedicated meeting spaces include A/V gear and unexpected details like custom wallpaper and marble tables.
Every floor has its own space stocked with a business-class printer, office supplies, and paper shredder.
Hook yourself up to hard-wired Ethernet or secure Wi-Fi, including IT support and guest log-in functionality.
Stay caffeinated throughout the day with an infinite stream of freshly roasted coffee.
Professional & Social Events
From workshops to thought-leader panels and cheese tastings, our programming helps you nurture a strong team culture.
The heart-and-soul of our locations, these lounges are living-room-style spaces designed for creativity, comfort, and productivity.
Coworking Space at 92 Champs-Élysées
Colored by the infamous sights and sounds of Paris's "Golden Triangle," our office space on 92 Champs-Élysées offers a creative oasis with a prestigious address.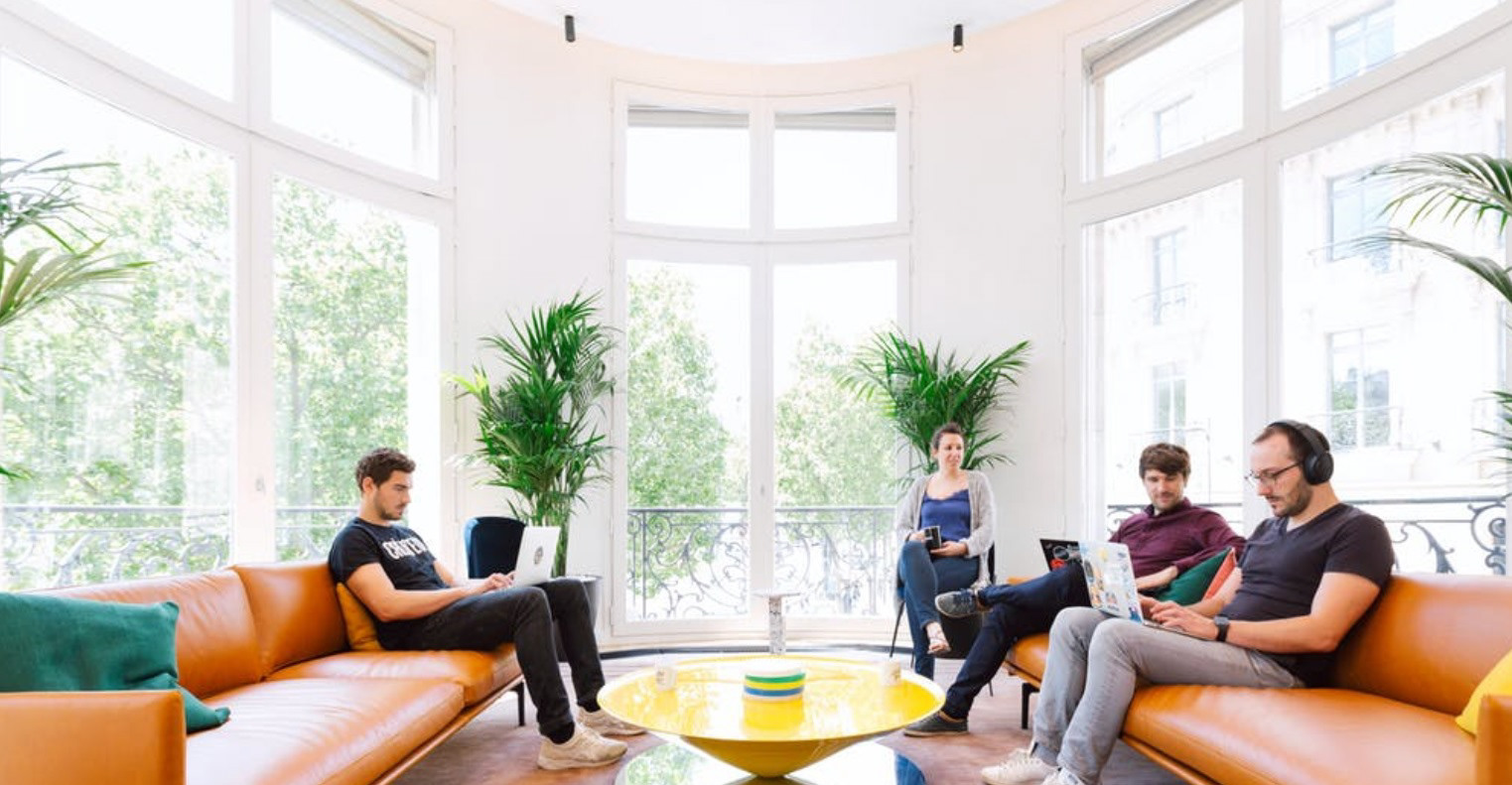 Occupying four floors in a five-story building, the wide selection of bars, restaurants, and boutiques nearby make it a true pedestrian's paradise. 

In addition to WeWork's hallmark amenities like front desk service, private offices, and unique conference rooms, our stunning outdoor space and dog-friendly policy truly set this location apart. 

Get the ideas flowing in a space designed for spitballing, thanks to writeable walls and standup-friendly furniture.
With a projector, sound system, and lighting controls, lounges are easily converted for members' meetups.
From balconies to rooftops, our al fresco spaces offer landscaped environments for coffee, yoga, lunch, or one-on-ones.
Whether you're a nursing mother, need to pray, or looking to meditate, you can rely on this lockable, serene room.
Get your best work done with your furry, four-legged colleague by your side? Pups are welcome here.
Located only minutes from the George V, Franklin D. Roosevelt, and Charles-de-Gaulle - Étoile stations, this Paris coworking space ensures easy access across the city. Whether you're looking to launch a new venture or expand your operations, this modern Paris coworking space will set you up for success.

Metro 1: George V, Franklin D. Roosvelt
Metro 9: Franklin D. Roosvelt, RER A: Charles-de-Gaulle - Étoile
Avenue des Champs-Élysées itself