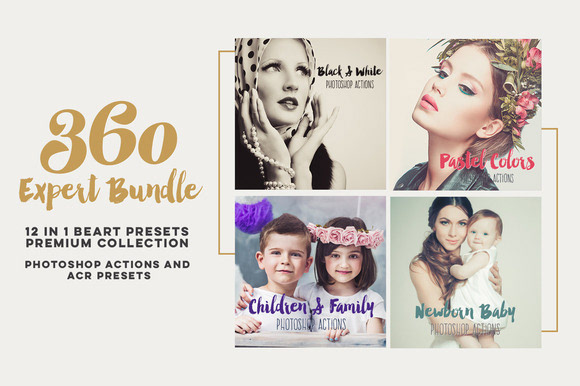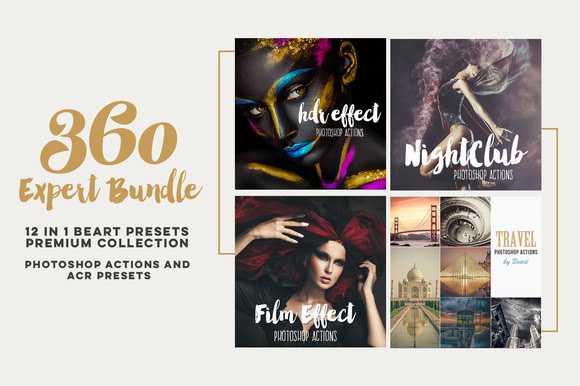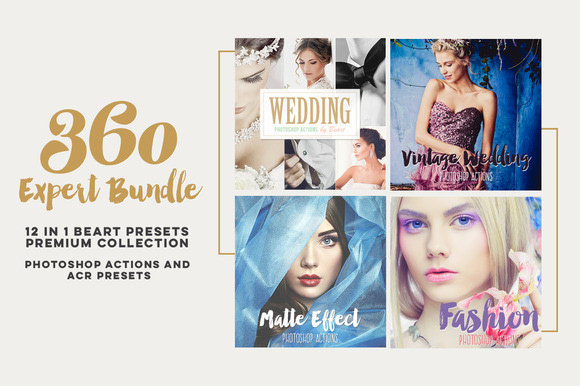 12-in-1 Mega Bundle includes 12 Professionally Designed Photoshop Actions Collections by BeArt Presets. It's perfect for Photographers, Bloggers, Web & Graphic Designers.
This exclusive Mega Bundle brings you 360 wildly popular creative Photoshop Actions. This is a fantastic chance to own some of the world's best-selling actions, for over 75% OFF the regular price!
Get BeArt Premium Bundle for only $59 instead of the regular price of $228.
12 in 1 Photoshop Actions Premium Bundle includes:
360 Photoshop actions (compatible with Photoshop CC, CC2014 & CC2015)
BONUS: 360 Photoshop Camera RAW Presets (compatible with Photoshop CS6 and later versions). You can use the Camera Raw filter on all image file types: JPEG, RAW/DNG, TIFF and other files.
Installation Instructions
NOT compatible with Photoshop Elements and earlier versions of Photoshop.
Here's a list of everything you get:
Wedding Photoshop Actions { 30 actions } http://crtv.mk/dvvs
Vintage Wedding Photoshop Actions { 30 actions } http://crtv.mk/dwHx
Fashion Photoshop Actions { 30 actions } http://crtv.mk/hqoA
HDR Photoshop Actions { 30 actions } http://crtv.mk/sxUB
Nightclub Photoshop Actions { 30 actions } http://crtv.mk/gvk9
Matte Photoshop Actions { 30 actions } http://crtv.mk/dwHy
Pastel Photoshop Actions { 30 actions } http://crtv.mk/jxLj
Film Photoshop Actions { 30 actions } http://crtv.mk/twIc
Family & Children Photoshop Actions { 30 actions } http://crtv.mk/csKC
Newborn Photoshop Actions { 30 actions } http://crtv.mk/gtwk
Travel & Landscape Photoshop Actions { 30 actions } http://crtv.mk/rphi
Black & White Photoshop Actions { 30 actions } http://crtv.mk/jqib
Some of these links to Lig
htroom Presets, ALL Photoshop Actions are only available in this Bundle
© 2015 BeArt Presets