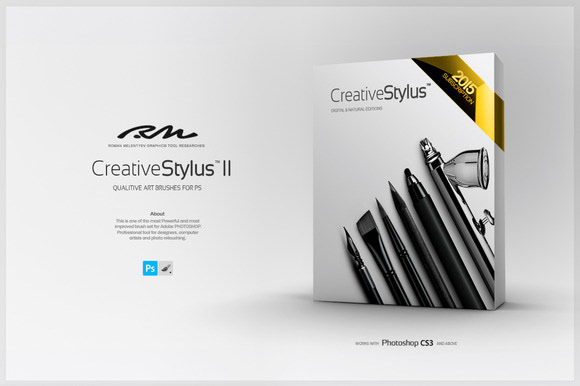 RM ★ Creative STYLUS™ II PRO v.4.0 of june 2015 (Latest update: 01.07.2015)
(About 500 all purpose Photoshop art brushes collection for stylus):
Digital brushes in pack: http://www.rainbow-wings.ru/RMCreativeStylus2/ContentPreview/Digital3.jpg
Natural Brushes in pack: http://www.rainbow-wings.ru/RMCreativeStylus2/ContentPreview/Natural.jpg
(Visit author's image created with using of "D Airbrush" set (dragon logo): http://www.rainbow-wings.ru/RMCreativeStylus/DG.jpg )
New huge (About 500 total brush presets!!) revolutional brush replacement for default photoshop brushes and latest June 2015 brushes. We had combined all our experience of professional artists and digital technologies experience to let you draw directly in Photoshop CS3 and above Series with nice back pressure reaction as well as with the most expencive and qualitive tools.
Use for:
Fast Sketch and concept creation
Photo retouching
Painting and making artistic effects with stylus both with digital and naturalistic technique. (2 in 1 bundle)
What is inside:
About half a thousand (!) total organized Well-tuned for drawing brushes in set of modern 2015 generation pack! All are handy sorted by volumes airbrushes, Inks, Oils, Waterolors, Pencils, Pens Grunge and more! Also you can find here useful Video tuts and psd-presets.
Features of this art pack:
First of all its not just realistic clean look for strokes, but also maximum possible comfort and intuitive hand adaptation like you feel with real qualitive art tools. It guaranteed that in a little pencil skilful hands your drawings will identical with natural scanned with our natural pencil and brushes. And our digital set allows you to perfect you photography or paintings at any level you would like. You can be shure that you get unique set and cannot reach these results with any other brush packs. Also you do not need no additional software for sketching and you can work inside powerful photoshop 16 bit color depth engine. (Note: Some machines with Photoshop CS6(v. 13) can produce delay by adobe's brush rendering perfomance bug. We work for this issue, however we recommend do not use buggy PS CS6 version to avoid this illogical effect, but use older or later versions of PS instead.)
Full functional extra-modern stylus Tools replacement for Photoshop its not a dream.
Power up you photoshop now! An you will say thanks for this choice again and again in different situations in a long & long time forward.
Draw all you want right in PS... now