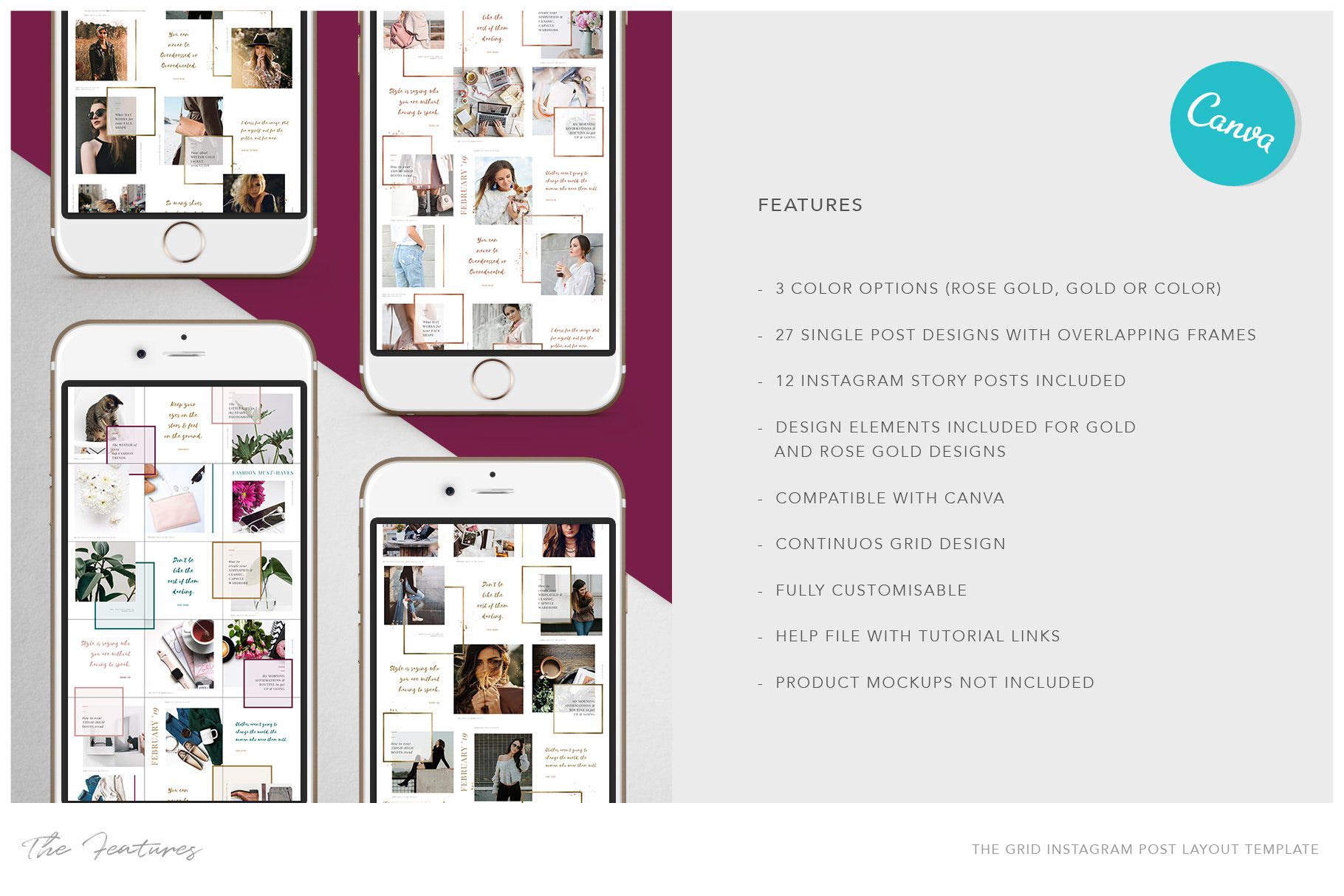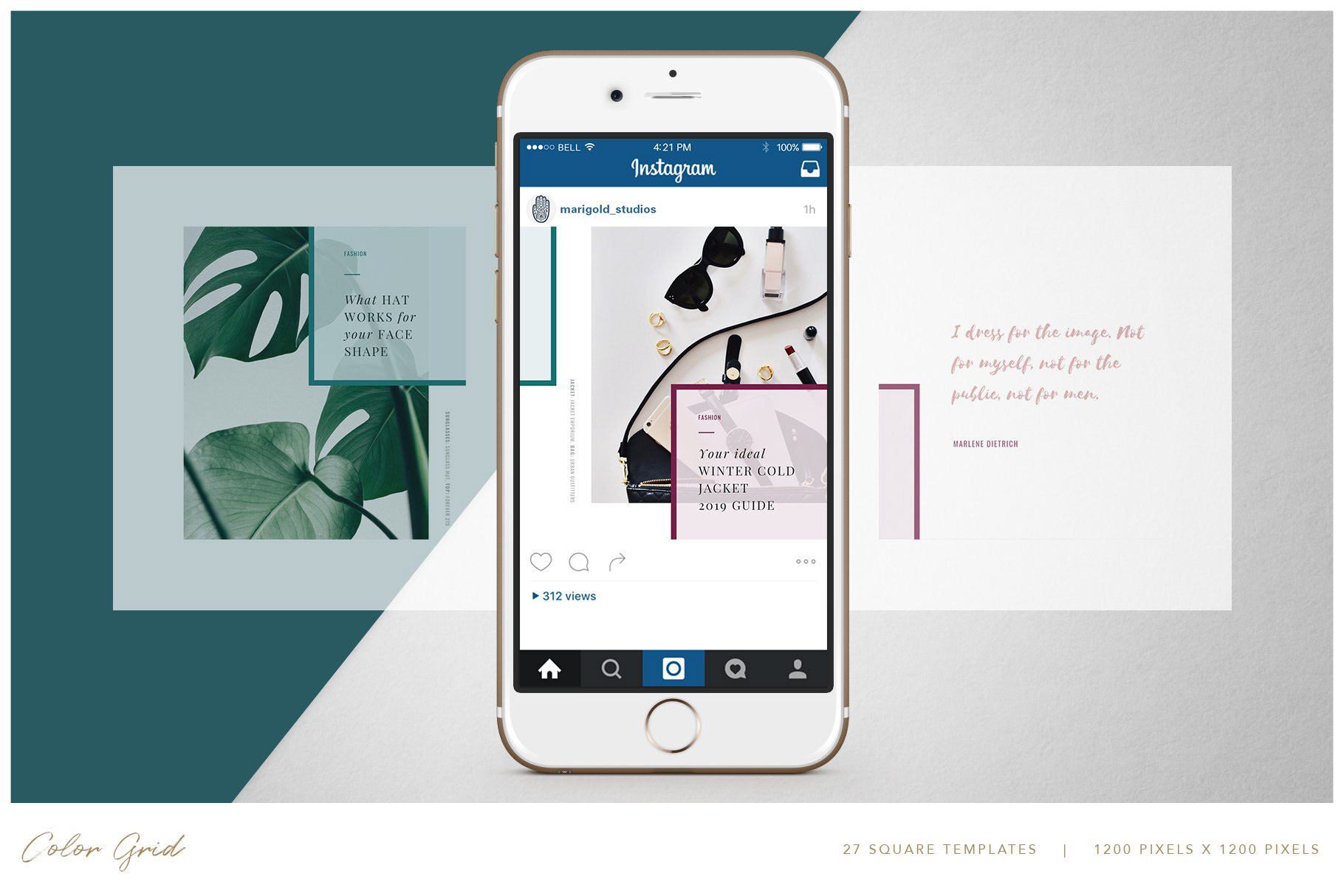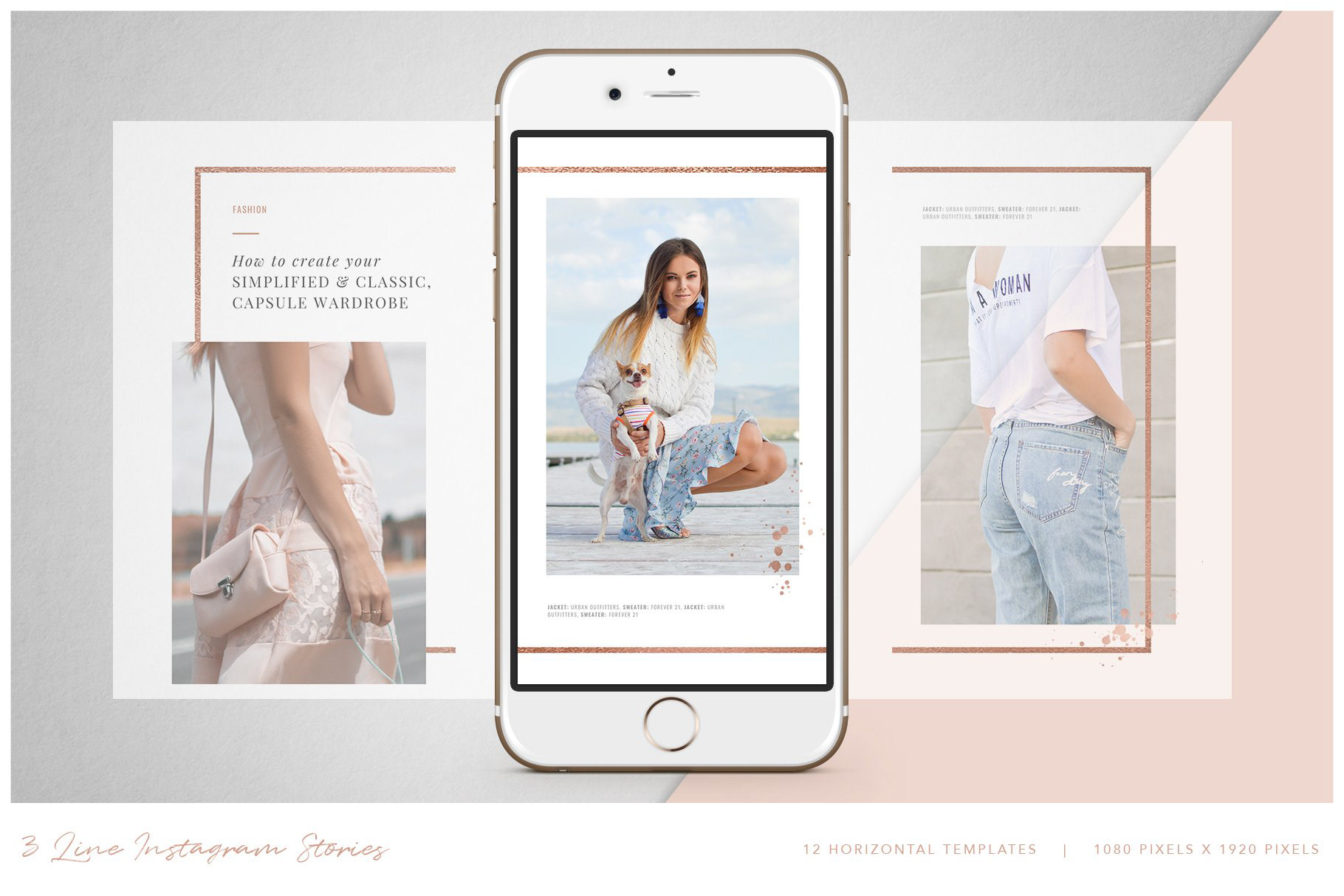 THE GRID | for Canva and Power Point is a stylish and elegant collection of Instagram Posts and Instagram Stories to assist you in promoting you business.
Continuous, single posts design, that when combined, forms an infinite grid template design with overlapping frames.
Matching Instagram Stories included!
FEATURES
3 Color options (rose gold, gold or color)
27 Single post designs with overlapping frames
12 Instagram Story Posts Included
Design Elements included for Gold and Rose Gold designs
Compatible with Canva
Continuos grid design
Fully customisable
Help File with tutorial links
Product mockups not included
PLEASE NOTE
Canva recently updated the app version and links are not directly transferable to the app. You will need to open the designs on the online version first and copy to "Your Designs" folder before you will be able to edit on the iPhone or iPad application.
HOW DOES IT WORK?
Once you have purchased the product from Creative Market you download the file.
Extract the file. Inside will be a folder with images, Help File, PPT files & Canva Links.
Click on the link to open with Canva. Copy each of the templates. Instructions included in the help file.
Voila! You are now ready to start editing your Canva templates.
Please note: Do not edit the original files - these links are shared with multiple clients and any edits will be shown on the design. ALWAYS make a copy.
WHAT IF I PURCHASED THE PHOTOSHOP FILE BUT WANT THE CANVA TEMPLATES INSTEAD?
No problem! Send us a private message with the date of the purchase for us to confirm, and we will send you a copy of the file and the link.
A D D I T I O N A L N O T E S
--
Please avoid moving the overlapping frames as this can result in the grid not lining up.
We always recommend making a copy of the design for safe keeping.
Canva designs can be changed. Unlike Dropbox, where you can provide a link to be downloaded without changes to the design being made, Canva only has the option to share an editable link or preview link. This is why we request clients to make copies and not edit the originals :)
P L E A S E N O T E
Because the product is an instant download, Creative Market is unable to provide refunds. Please ask us questions that you might have before purchasing. Have any feedback or suggestions? Please let us know! We are always looking at how we can improve our products and strive to give all our clients quality goods.
We hope you enjoy it! Remember to follow us on instagram @marigold_studios for exclusive giveaways and freebies :)
We are not affiliated with Canva.
This design is copyrighted to Marigold Studios. Please do not resell or distribute the template